As requested on our social media polls, you have selected the topic of this analysis: France vs. England. This Quarter-final match between these two European powerhouses gave us a true spectacle, along with the possibility to perform an in-depth dive on how France was able to overcome England through clever tactics and continue their World Cup dream. Along with this analysis, we will also look into similar tactical patterns from the rest of the World Cup semi-finalists. France, Croatia, Morocco, and Argentina share this "Hidden Key" that has shaped their playing style and become part of the top four teams in the World Cup.
France, the current World Cup champions, has had a very solid tournament so far. They have proven that even without the stars of Benzema, Pogba, Kanté, Maignan, or Nkunku, they can still compete at the highest level with quality and efficiency. Coach Didier Deschamps has been able to create a balanced team with high levels of attacking intensity and defensive solidity.
In the game against England, France was very clever and created most of their chances through offensive transitions. But what in particular made those transitions so dangerous?
It was the way they ensured width first, especially with Mbappé and Dembélé, before attacking in depth. So, instead of playing directly to Giroud, who was fiercely marked by Stones and Maguire, they first played to the wings to stretch England's defense during the transitions. These movements created width and space when attacking, which allowed for some good one-versus-one duels that allowed Mbappé and Dembélé arrive to the final third of the pitch in advantage. In these situations, they could cross into the box and create chances. As seen, Deschamps requests his player. It is crucial to note that Antoine Griezmann fulfills the creative role France needs in order to allow these actions to happen, providing an advantage in many cases to the wingers.
In the action seen below, France first attacks through the middle through Griezmann and then opens up to the wings, where Dembélé is able to surpass his opponent and cross the ball to Giroud, having Mbappé also attacking the box. The key of the action is how Griezmann does not play deep to Giroud at first as he is marked by both center backs, causing Maguire to move out of the zone and giving an advantage to Giroud on Dembélé's cross.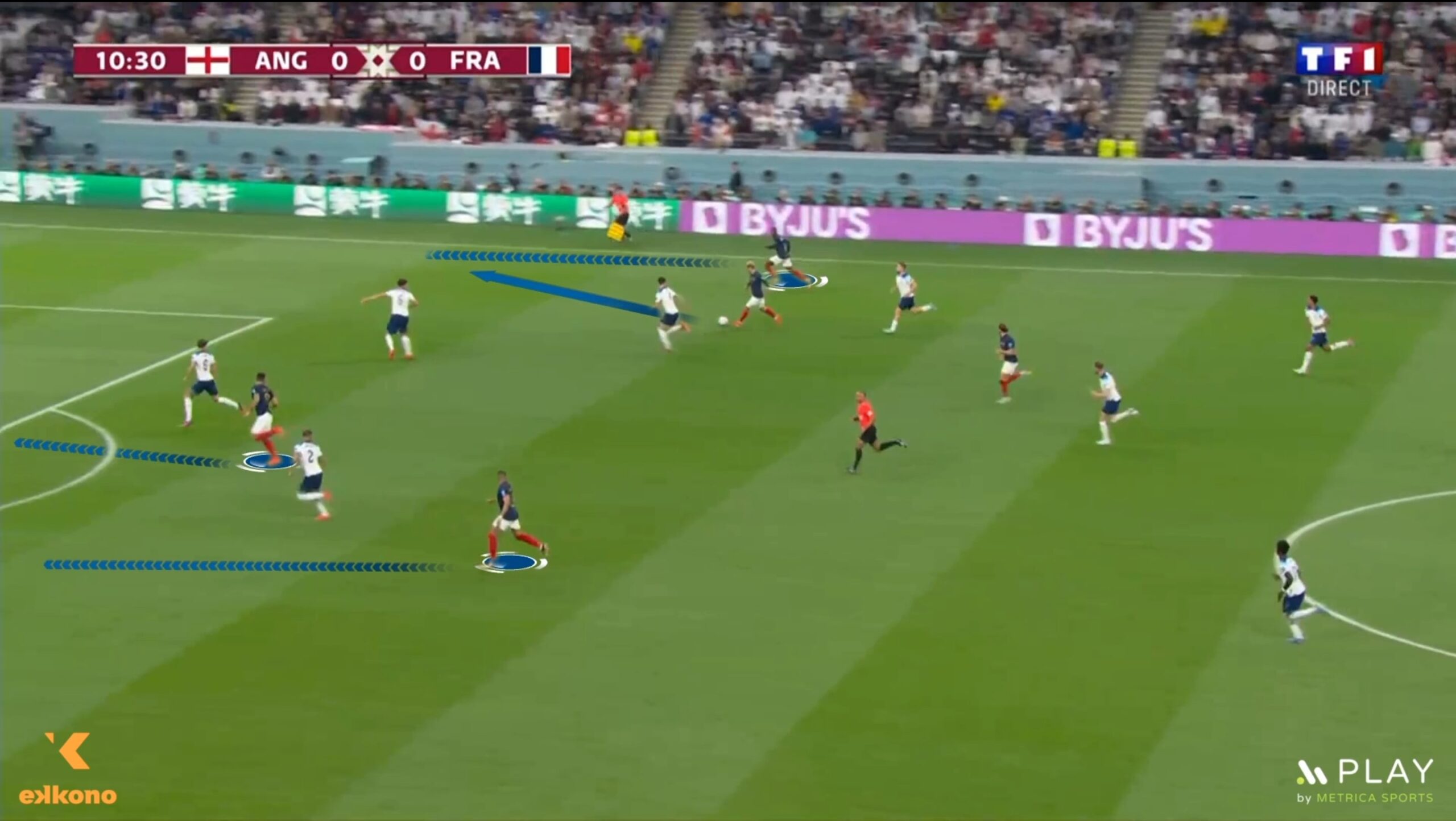 In case they are not able to progress on the flanks after a fast 1vs1 situation with their wingers, France was able to find advantages over England with their ability to find and attack the gaps between the English defense. These gaps were created thanks to ensuring width first in the transition, which caused the English defense to stretch. The French attacking players were able to identify key spaces between the English defense and perform dangerous runs in between these gaps. These players would then receive magnificent diagonal and grounded passes from the French defense, which then facilitated the attack. Such can be seen in the picture below, where Hernández recovers the ball and plays to Mbappé to the flank, who cannot surpass his opponent but sees the gap between Stones and Maguire and plays in depth to Giroud in a counter-attack to progress toward the goal. This movement surprises the English defense and finds them unorganized, hence contributing to an efficient French attack. Actions like this one were crucial all throughout the match, as both teams had a high attacking mentality. Yet, France was more efficient than England because they were able to create amplitude during their transitions, and were able to efficiently identify and attack the defensive gaps of their opponents in rapid movements, proving to be better in offensive transitions.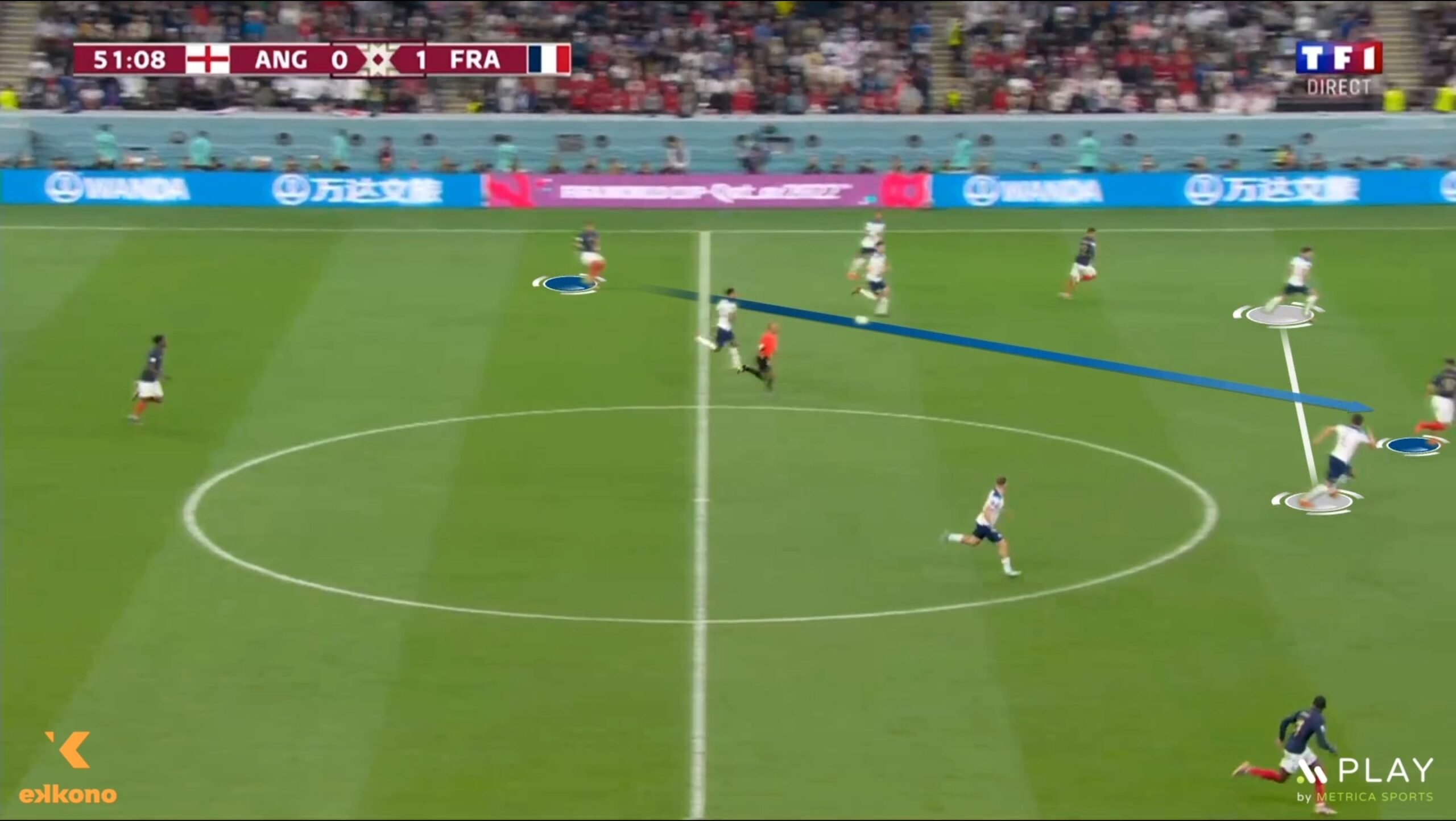 As we mentioned at the beginning of this analysis, even though the main focus was to analyze France vs England match, the other semifinalists of this World Cup, especially Morocco, and Croatia, also apply this pattern during their matches. Let's start with Morocco, the surprise of this World Cup. Aside from mastering their defense in a mid-block or low-block, they have also been optimal when considering their offensive transitions. Like France, Morocco also applies the concept of ensuring width first in a transition before playing deep, usually to En-Nesyri who has provided excellent unmarking movements in the gaps opened in the opponent's defensive lines. It must be understood that when playing wide first in these types of actions, the ball holder has more options to pass, leading to a higher probability to break through the defensive line and score. Additionally, Morocco players who give width to the attack, usually Ziyech and Boufal, also have high possibility to cross in favorable conditions after they can beat their rivals in 1v1 situations.
As we can see in the first example of the two shown below, Morocco plays wide to then find space in the central corridor again. At that point, En-Nesyri and Attiyat Allah are stretching Portugal's defensive line and opening gaps for Ounahi to play in depth again to Attiyat Allah who can finish the action.
In the second example, it is Boufal who recovers on the flank and keeps progressing after beating two opponents. En-Nesyri detects the huge gap between Ruben Dias and Guerreiro (LB), who has not had enough time to come back to defend and separates from Dias to attack the gap. In this case, En-Nesyri is not providing maximum width, but optimal width, meaning he is offering the necessary width for the play to progress with advantage. The action is then ended with a long shot by Ounahi. Again, these actions happen at a very fast pace, where the opposition defence is in a state of disorganization, thanks in great part to ensuring width first before progressing in depth. Morocco has clearly understood that this is one of their main advantages, so we can also expect to see them do this in the upcoming semi-final against France.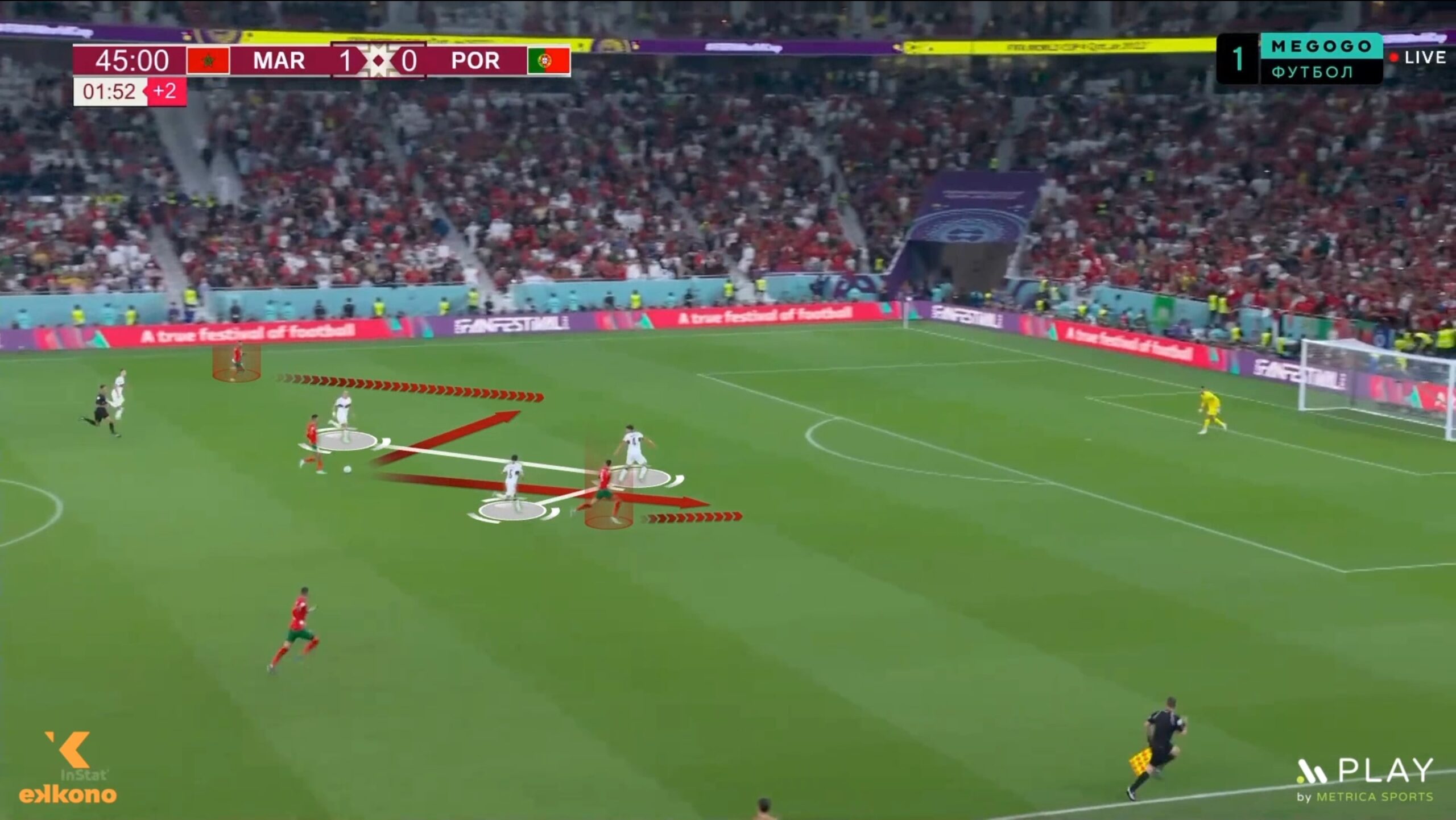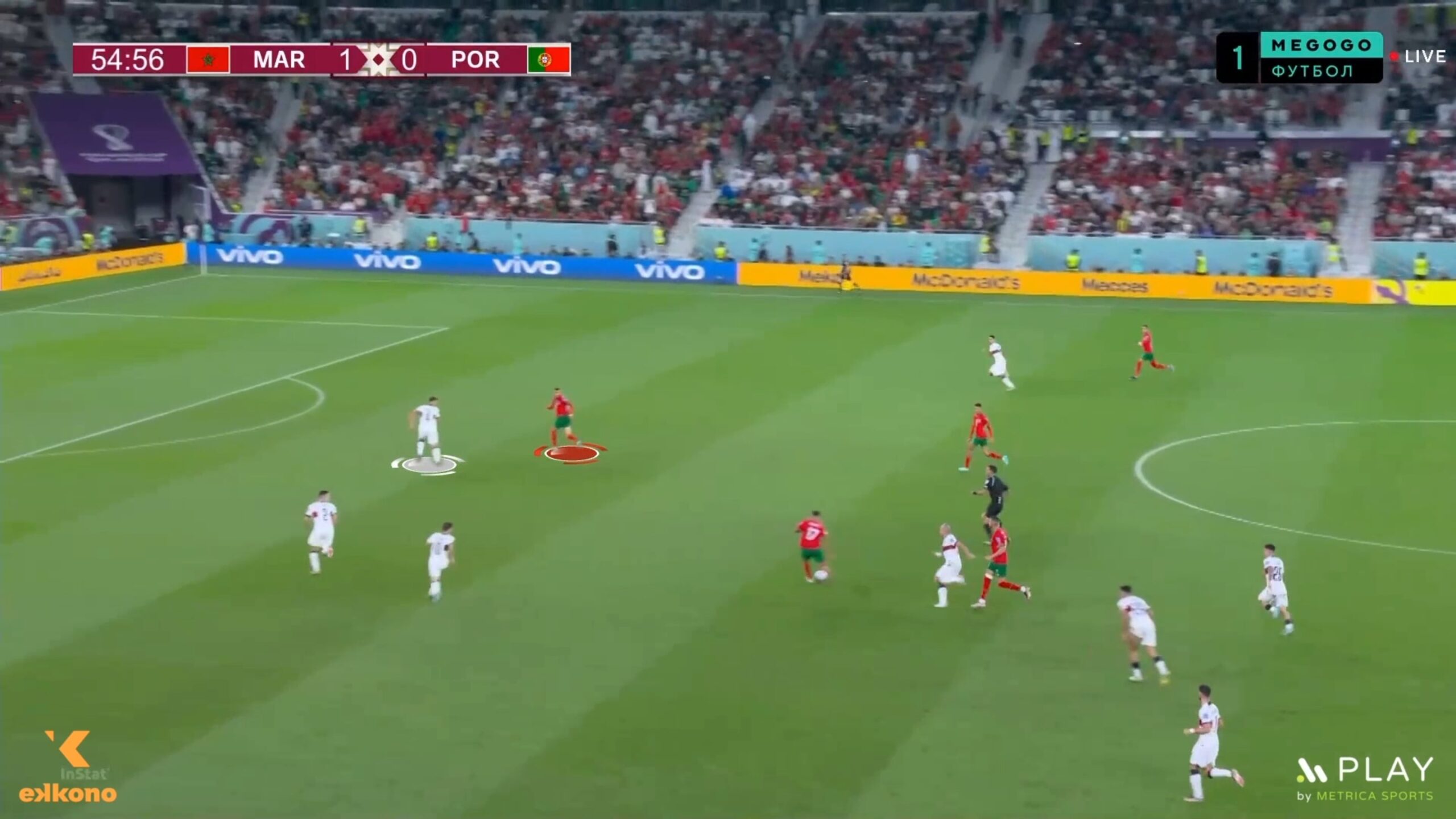 Croatia, another of the semi-finalists, have also performed some efficient offensive transitions, which provided them with the goal that brought the match against Brazil (1-1) to the penalty shootout. Again, this type of action is present among the best teams of the tournament and thus it can be considered as a repeating pattern and key for success in the field. As seen, Croatia is able to ensure width and progress to the final third of the pitch through proper 1v1 situations. In this attack, Perišić is able to open the ball to the wing to his teammate Oršić, where he now crosses the ball low to find his other teammates in the box. Again, we see this pattern of attacking the box with determination after generating the advantage in the final third. In this case Croatia has 3 players waiting for the ball, and when the cross finally comes, Bruno Petković is able to score. Croatia then ties the game and is able to beat Brazil on penalties and reach their second consecutive World Cup semi-final.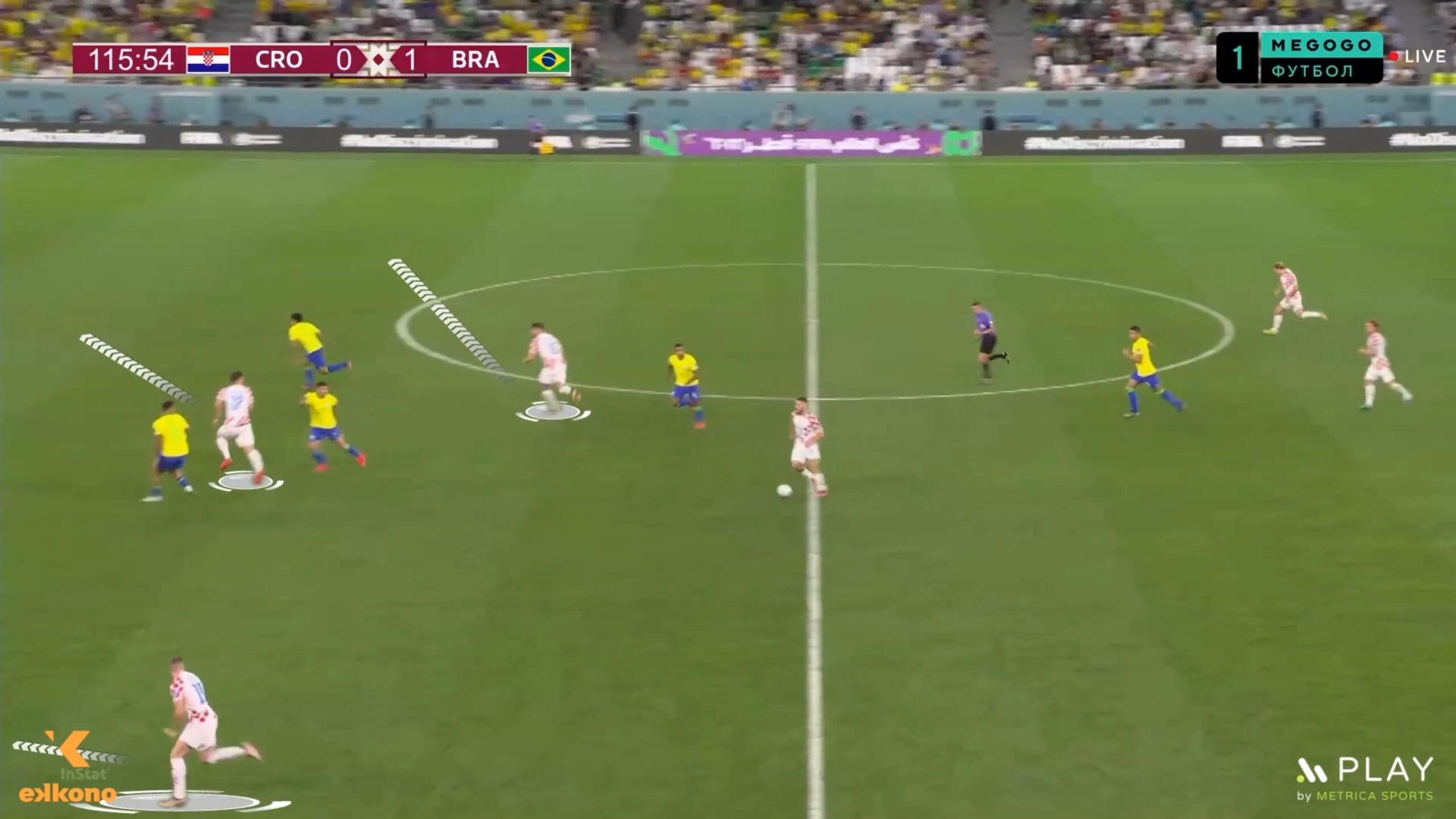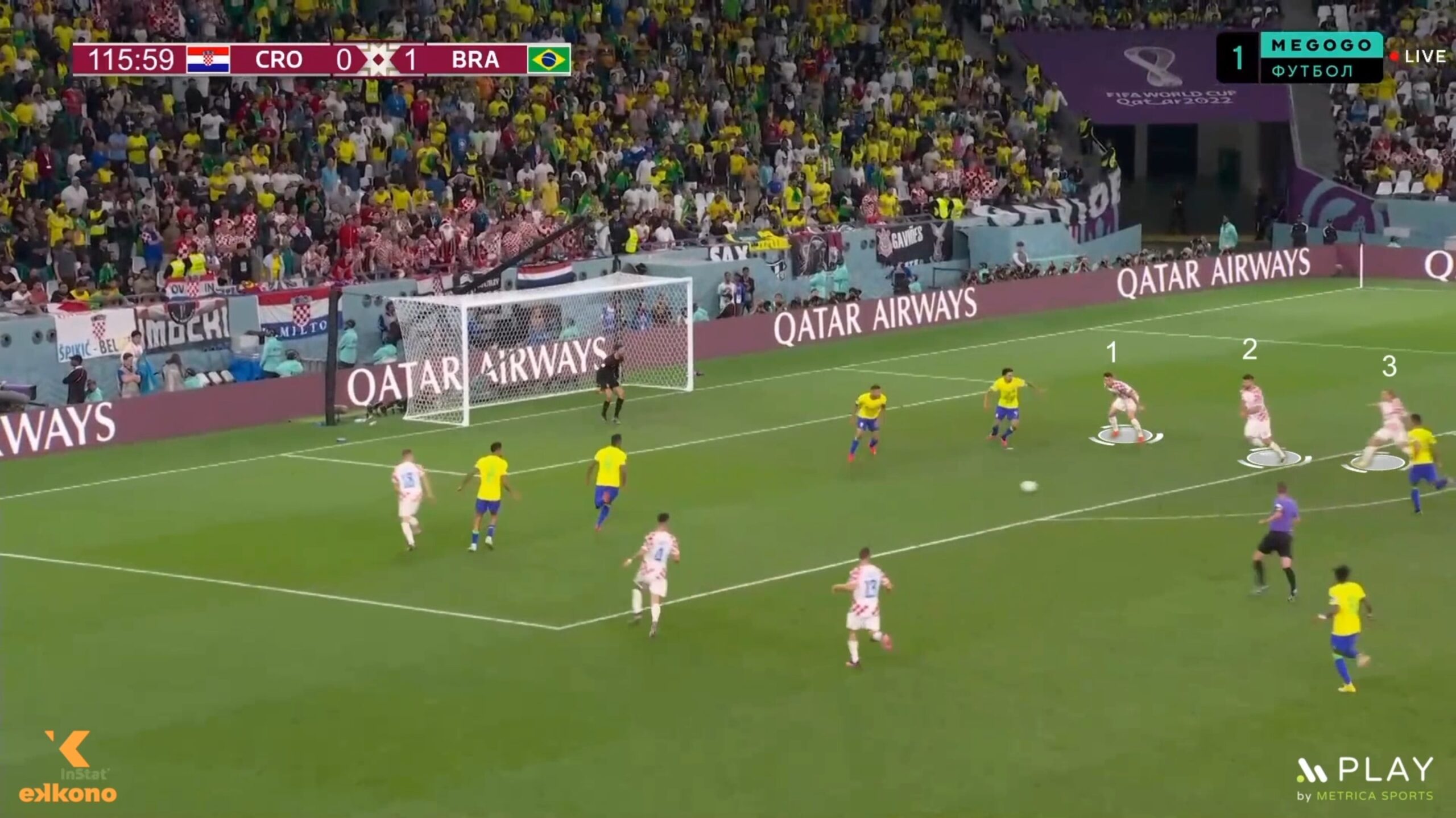 As seen in this analysis, the teams who made it the furthest in the World Cup perform similar patterns across their games. These patterns are related to offensive transitions and have been proven to be effective in times where games are very complex. In other words, this World Cup has demonstrated that ensuring width in your offensive transitions can be the key to lead your team to the victory. As coaches, we can apply this knowledge to our own teams and see the benefits it brings to our players individually and our team performance. This key can enrich our competition levels and improve us significantly.