João Cancelo has proven to be one of the best full-backs in the World, playing at both flanks for Manchester City. The Portuguese, natural from Barreiro, started his career as a deep right full-back at Valencia with good dribbling abilities. His consolidation in the elite of football came under Pep Guardiola, elevating his comprehension of the game and performance level, hence being able to adapt his positioning – outside or inside – based on the team needs. This usual performance level and confidence, however, has not shown during this first phase of the World Cup.
In this analysis, we will try to understand the different contexts between Manchester City and Portugal – Pep Guardiola and Fernando Santos – has not allowed Cancelo to show the same level so far at Qatar.
Let's see what happens to Cancelo when playing for Portugal. In the first place, we must say that the style of play and ecosystem that he finds himself when playing for the national team is totally different than the one he is in at Manchester City. At City, he is used to receiving the ball in advantage, with time and space to progress or make the next attacking action.
This, though, has not happened during the first matches of the Qatar 2022 World Cup, as Portugal has not managed to use ball circulation strategies to move the opponent's block enough and find their full backs, such as Cancelo, in advantageous positions. In the images below, we can see this difference clearly. With Manchester City he is able to receive with lots of space in front and no opponents near him, which allows him to progress and then finish with after an amazing 1vs1 movement. On the other hand, with Portugal he is receiving in tight spaces, with many opponents close to him which ends up in turnovers or not being able to progress in the game.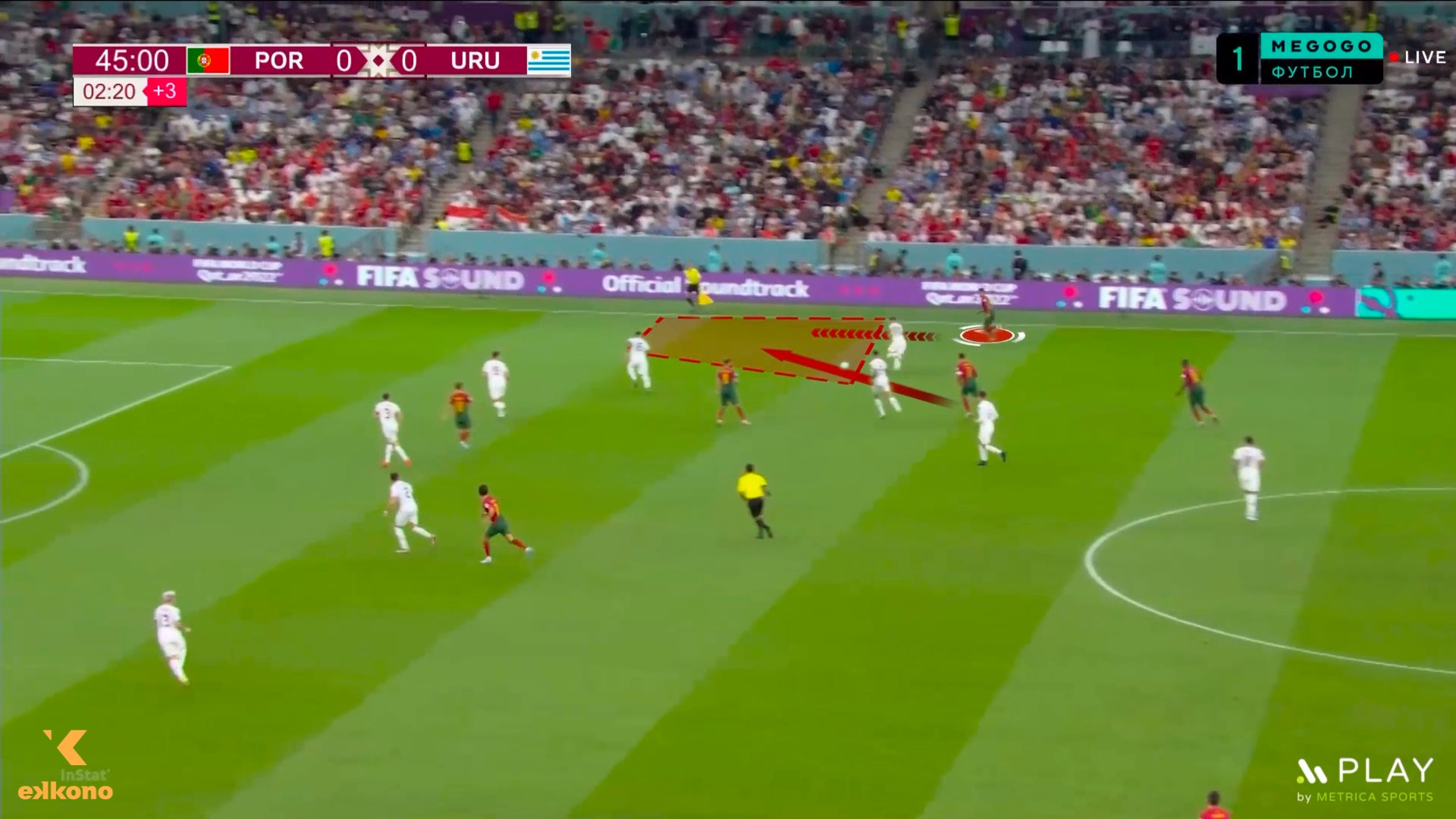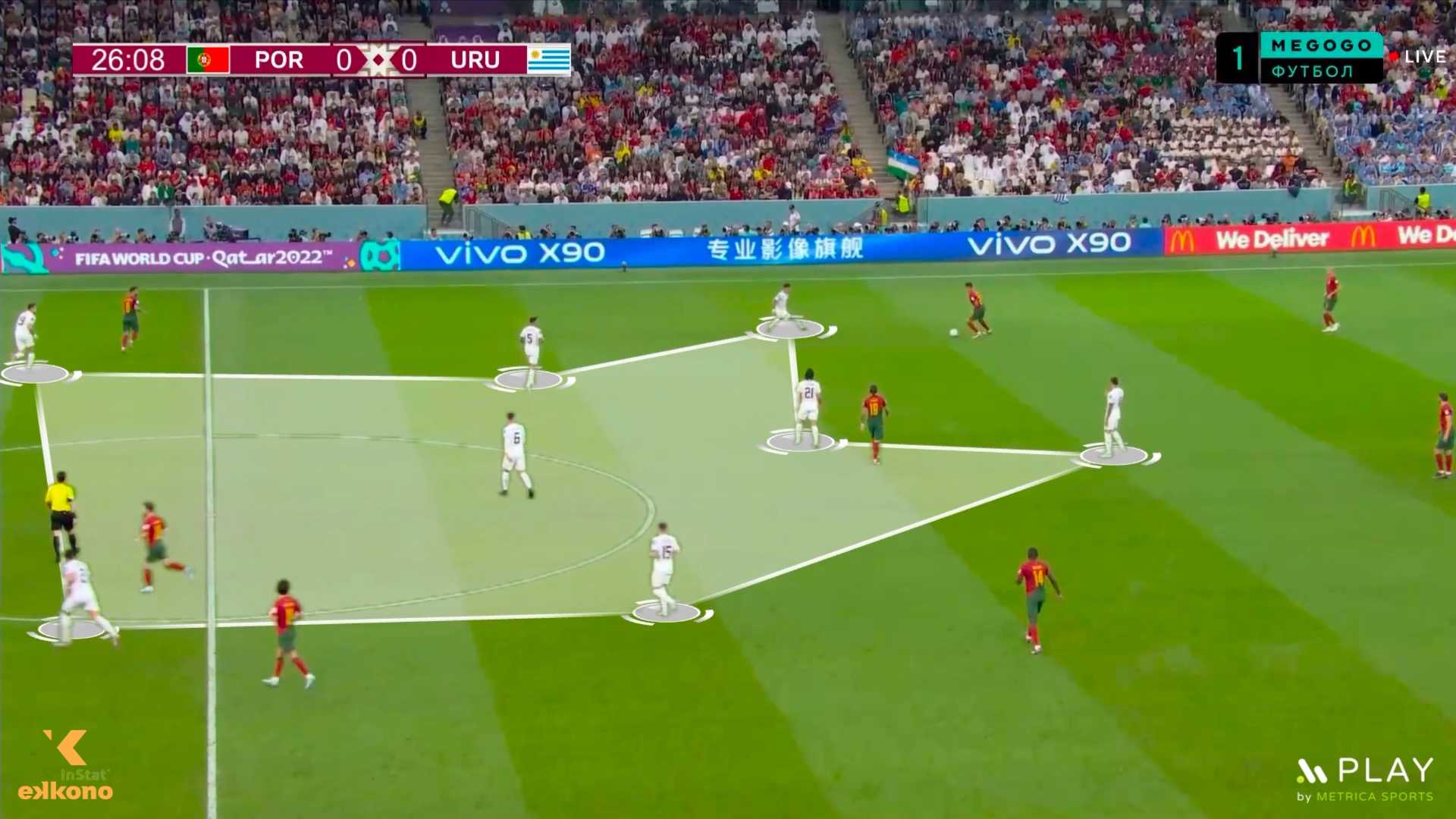 Another aspect which differs is the clear supports inside the opponent's block, once he receives the ball on the flank. In order for him to progress, he needs passing options in depth or inside the opponents' block. However, in many cases this does not happen with Portugal, resulting in him having to play back again and restarting the build-up. Under Pep Guardiola, on the other hand, we can always see several players offering supports in depth or inside the opponent's block, facilitating the options for the ball holder, who is able to find multiple solutions that will help pass the ball to a teammate in advantage.
As we can see below, Cancelo with Portugal has the ball and there is no clear passing option in depth or to offer continuity to the game. This forces him to play back to the center-backs. With Manchester City, we can see how De Bruyne offers a clear support and Grealish is helping to open a passing line, resulting in a one-two pass and Haaland's finish to score.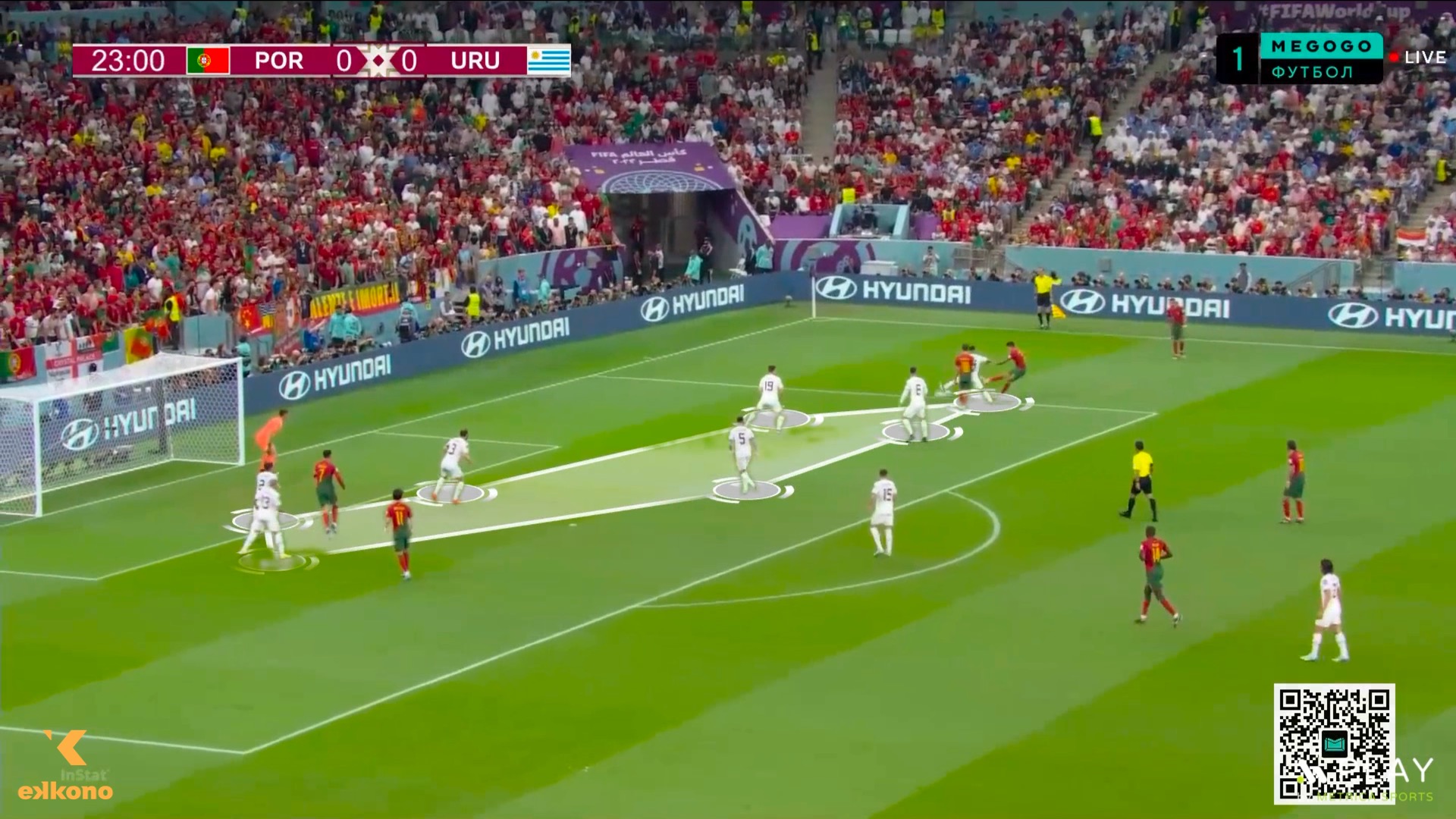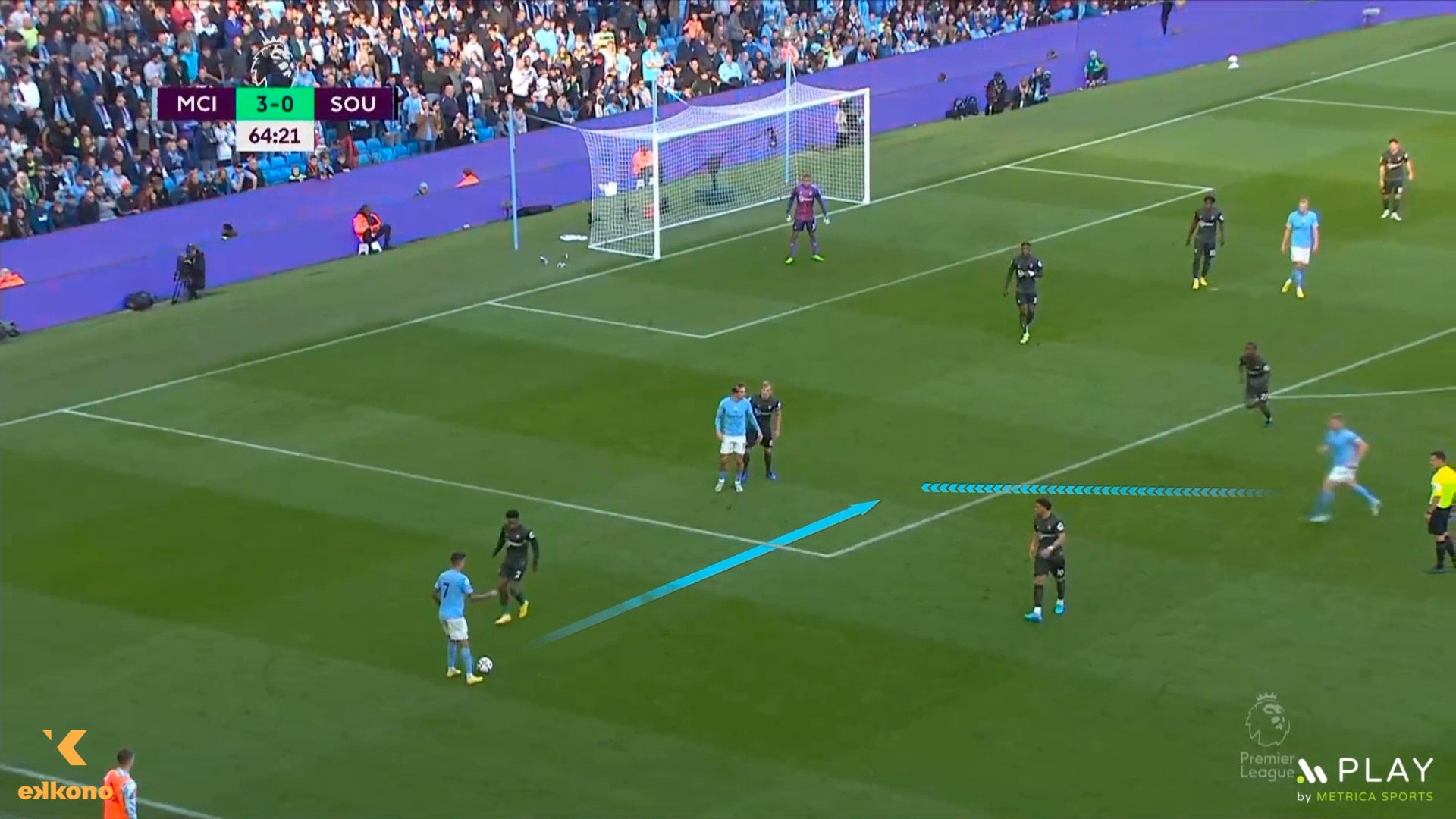 These situations mentioned above, have caused Cancelo's individual performance to worsen when compared to his performances at Manchester City. Not necessarily, as we have seen, because of a big change in his game or individual conditions, but because of how the ecosystem is different, as he cannot apply the same principles as when playing for his club.
This may have caused a lack of confidence in his game too, affecting his decision making and technical execution at some times. For example, we can see this magnificent early cross he made for Haaland, using the outside part of his foot, compared to this other action with Portugal where, after a poor first touch, he ends up crossing with no advantage for the attackers.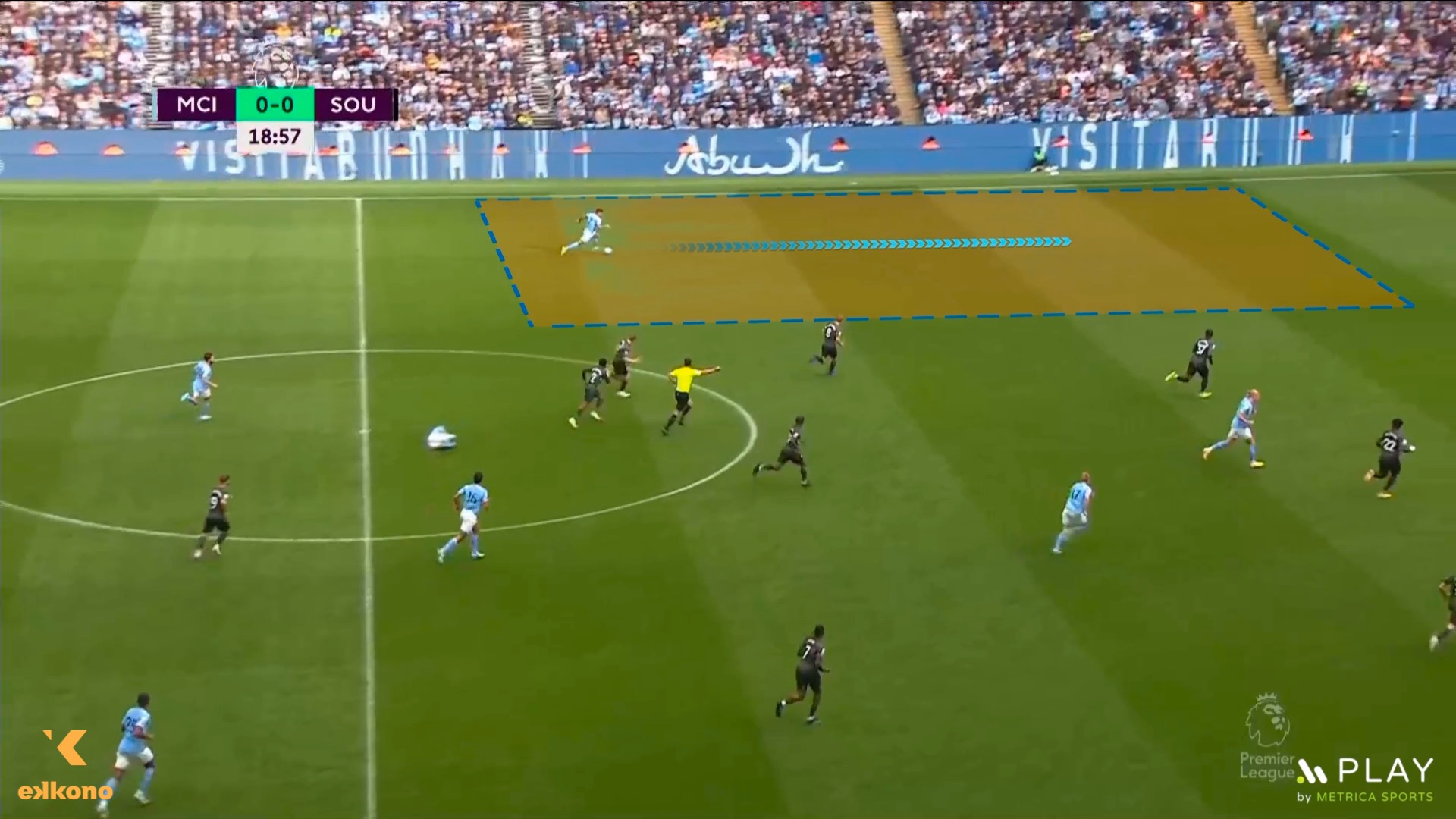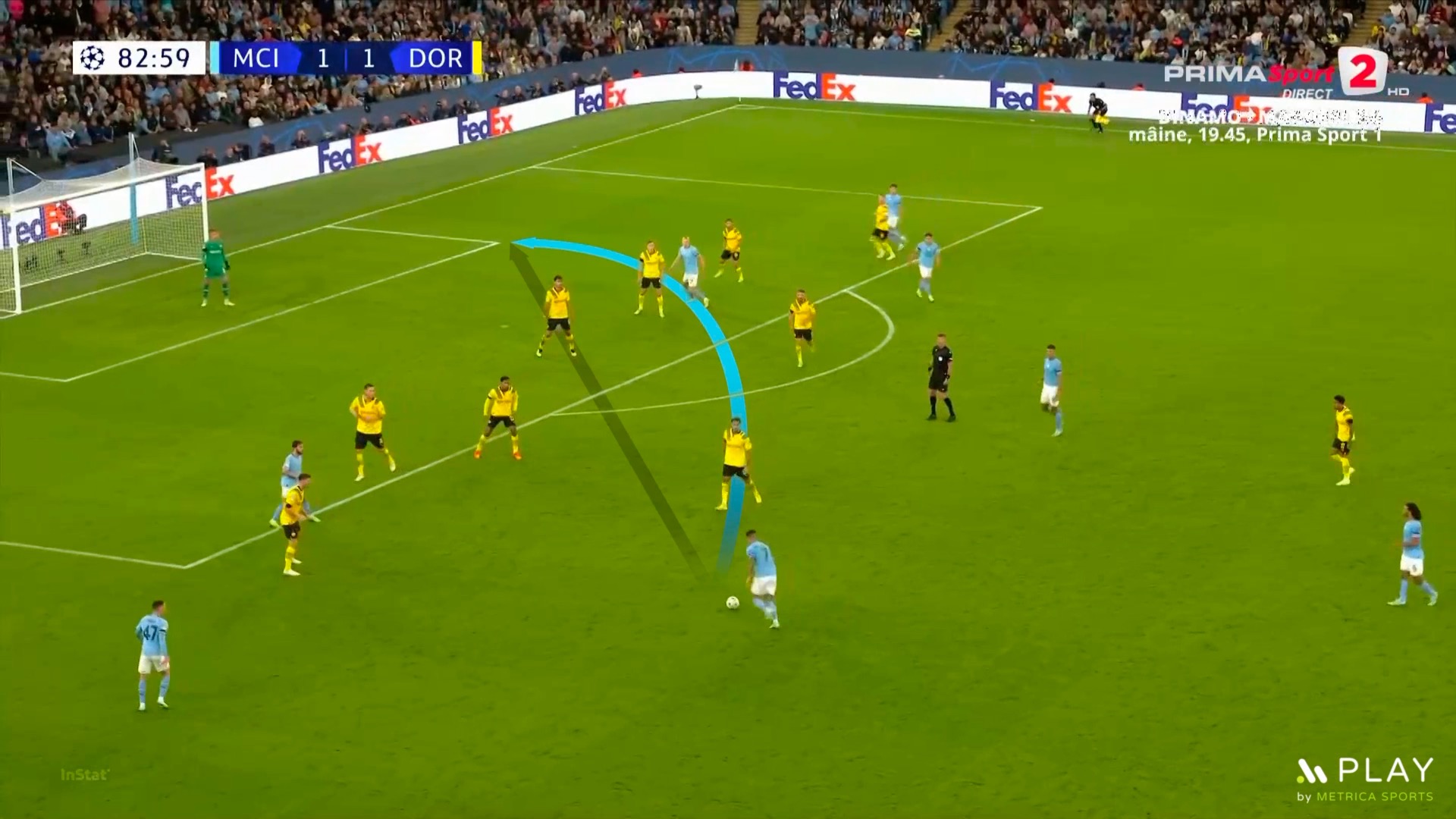 In summary, we've seen how Joao Cancelo's performance has gone down during the group stage of the World Cup, where most analysts would blame it on his "poor physical condition" or reasons related to the individual player conditions. However, we believe that this change is related to collective reasons, as the conditions he finds at Portugal are not the same as in Manchester.
Football is a collective sport, where each player's actions depend on their teammates movements and decisions. Therefore, when analysing a player's performance, we must always consider the ecosystem they are playing in. In other words, in most cases we cannot separate the individual analysis from the collective one.