Despite their defeat against Croatia (1-1, Penalties 4-2) in the quarter finals, Brazil has played impressive football throughout the World Cup. "Jogo Bonito" is finally back and it's more entertaining than ever. It is no secret that this Brazilian squad is full of stars such as Neymar Jr., Vinícius Jr., Richarlison, Casemiro, and Thiago Silva. Nevertheless, there is another player who has not been under the spotlight, but yet has been crucial for his national team throughout the tournament: Lucas Paquetá. West Ham's central midfielder has been a starter for Brazil in the games against Serbia, Switzerland, South Korea, and Croatia; contributing to his team's performance in a very positive way.
Therefore, today we want to focus on Lucas Paquetá's role and understand why he is the 'Hidden Key' for the Brazilian national team.
The current West Ham midfielder, born in Rio de Janeiro, has established himself as a player with consistent level in European football. Yet, many don't seem to appreciate his unique and valuable contributions to the teams he has played for. His role is unfortunately often overseen. Paquetá is a player that tends to strive as an advanced midfielder in a three-man midfield, as this formation allows him to contribute with his flexibility and adaptability to the different game scenarios. This World Cup has proven that Paquetá is a top player in the midfield. Let's dive deeper into the analysis understand such statement.
Despite being very efficient when performing his defensive role, Paqueta excels when attacking. He tends to feel comfortable with opposition pressure which then allows him to play with more ease of flow and progress the team attack. His ability and dynamism allows him to adapt his positioning to offer continuity or progression to then find better located teammates, leading to the creation of dangerous chances through efficient passing.
In more detail, Paquetá become the creator for his teammates in order to control the circulation and flow of the ball in the attacking phase. One of his biggest strengths is becoming always available to offer continuity supports to his teammates or receive passes in between opponent lines. He operates within the lines hoping to receive the ball from deeper areas of the pitch. His high levels of awareness of space and opposition allows him to become free in order to open a passing lane.
This can be perfectly seen below, where Paquetá is always available for his teammates during the whole attack, adapting his positioning multiple times based on the ball holder's situation, to be able to offer the best support to help the team progress. Paquetá shuffles through different sections of the pitch to be the best option and to become the motor of the team when attacking. His movements are crucial Brazil, as he is always present in the team progression, assisting the team flow.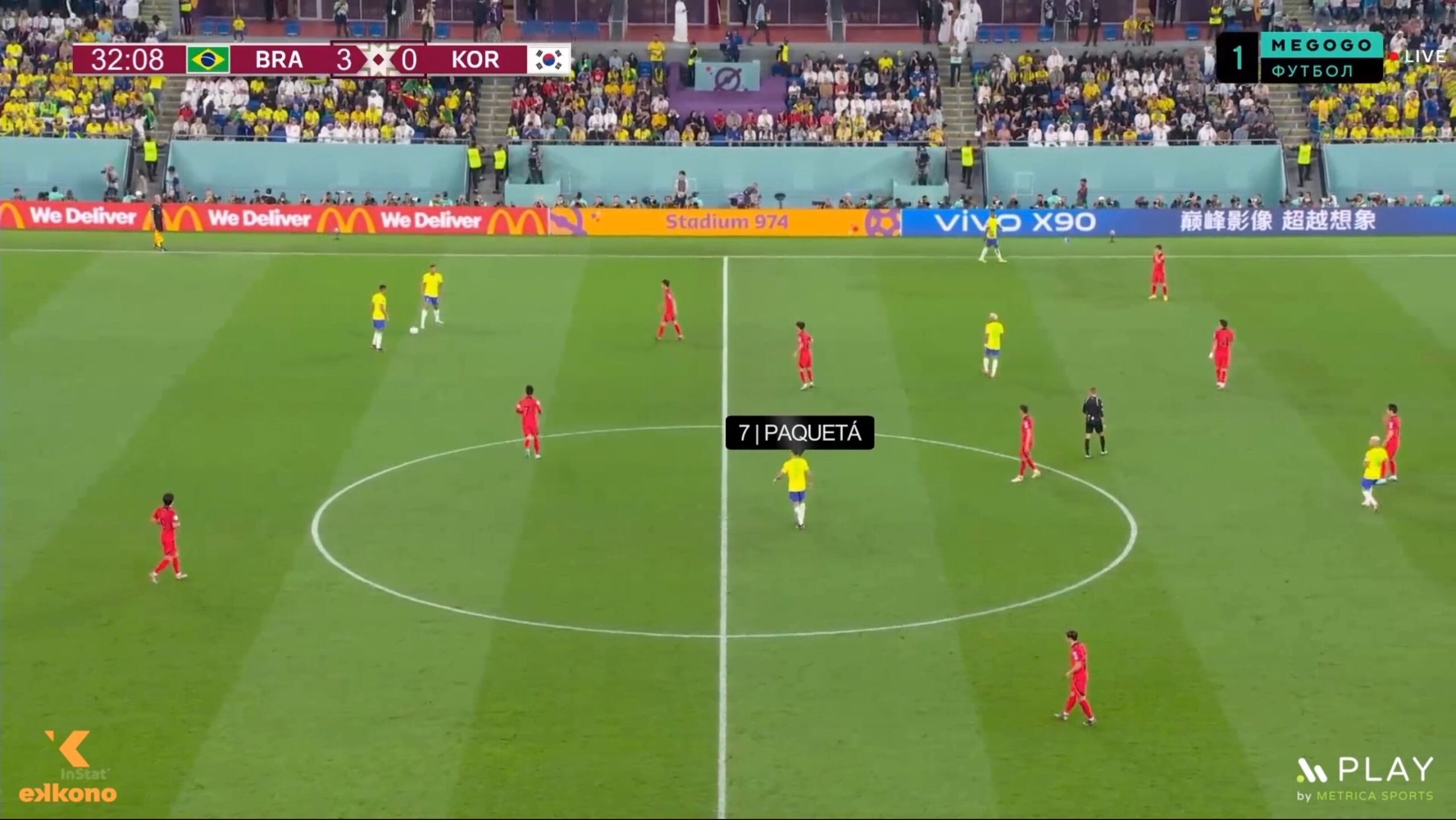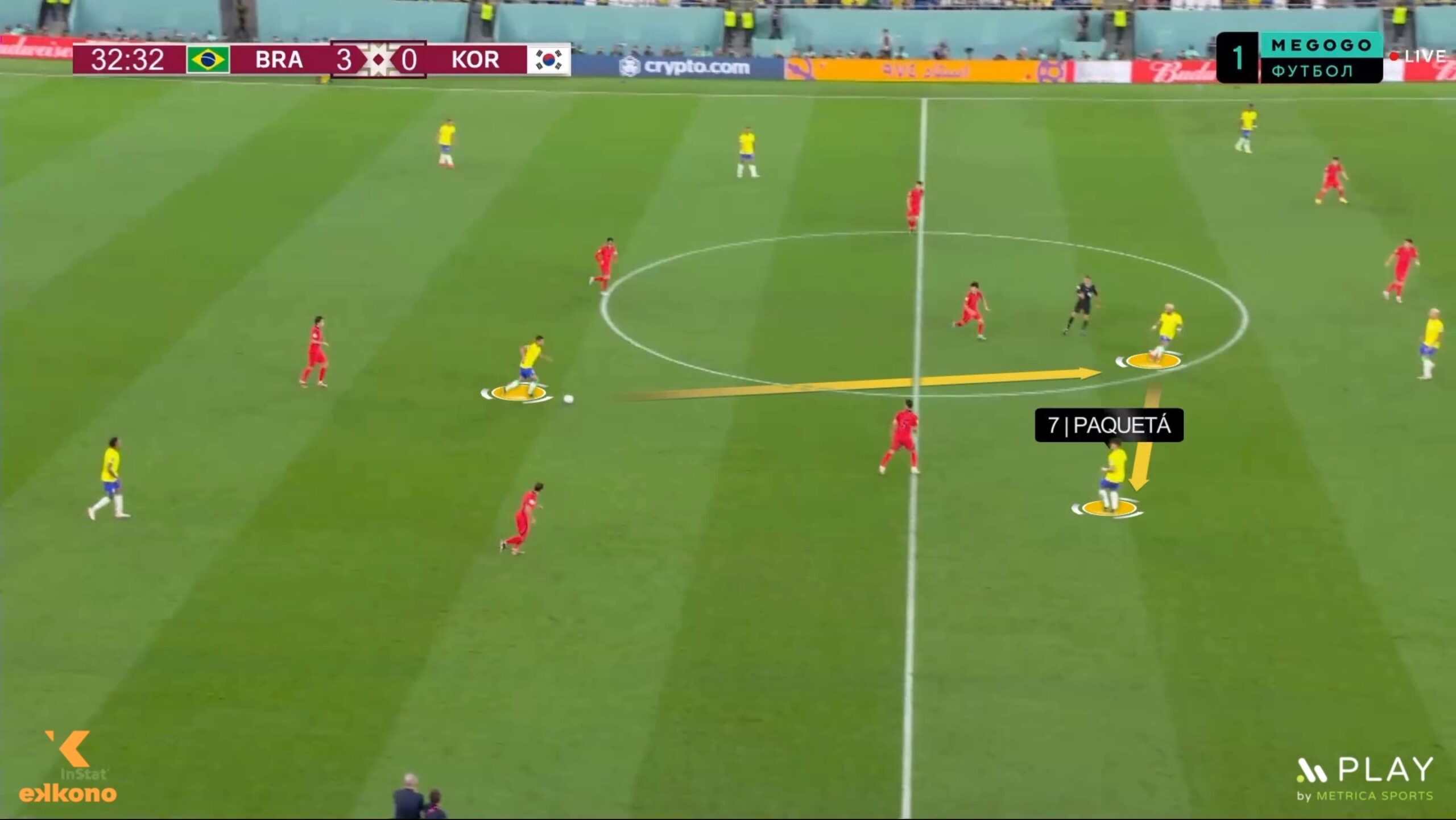 Another of Paquetá's main advantages as a player is his selflessness. He understands his role and contributes in order to help his team achieve the desired goals. In the example, Paquetá offers continuity to Neymar on the base to ensure Brazil can keep the ball possession and be able to progress. He is not the receiver of the ball, as Neymar plays forward to a player with more advantage, but then he still makes a big effort to arrive to the final third and make a run attacking the gap between the left-back and center-back, and being able to finish the action with danger for Korea.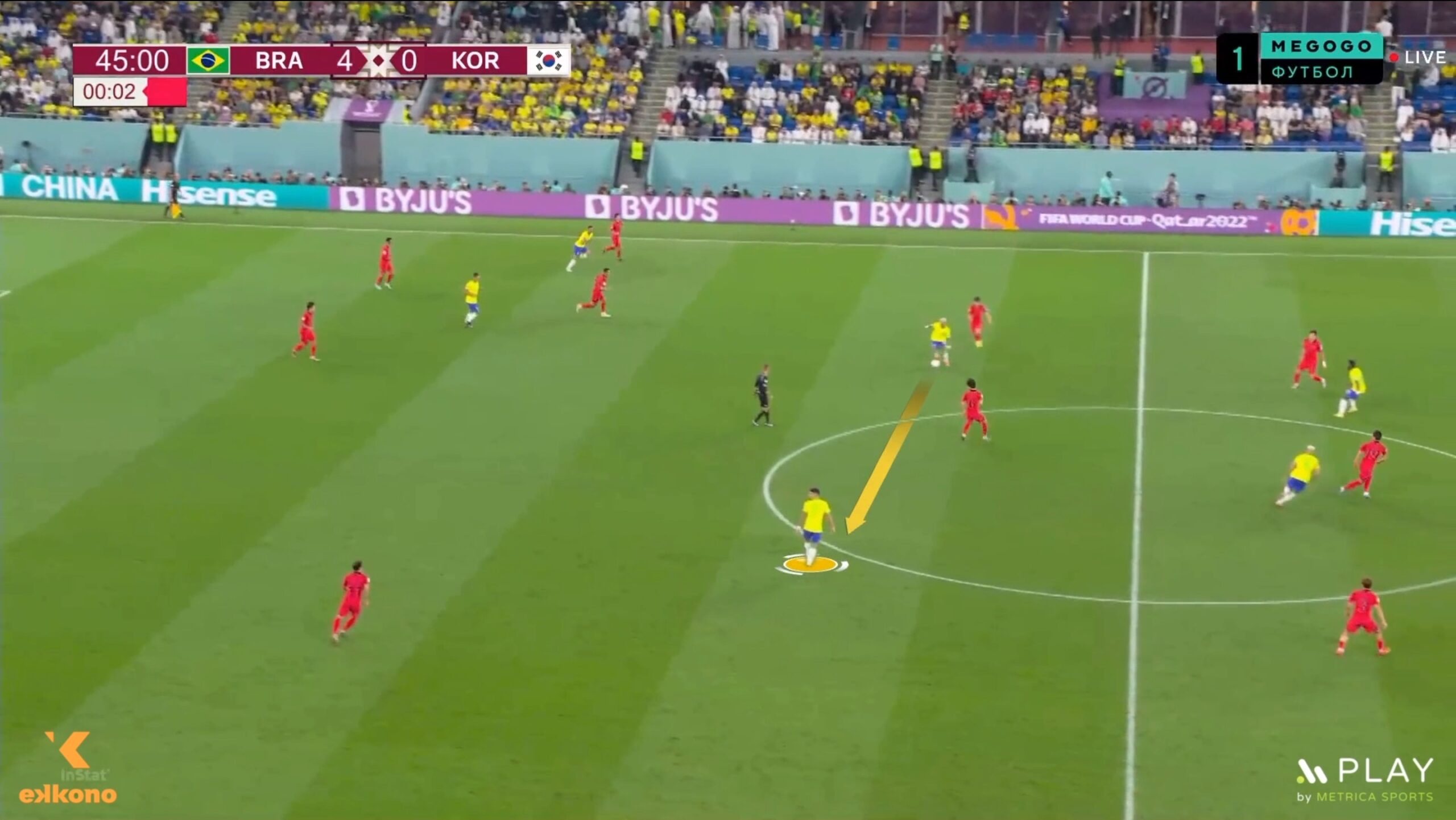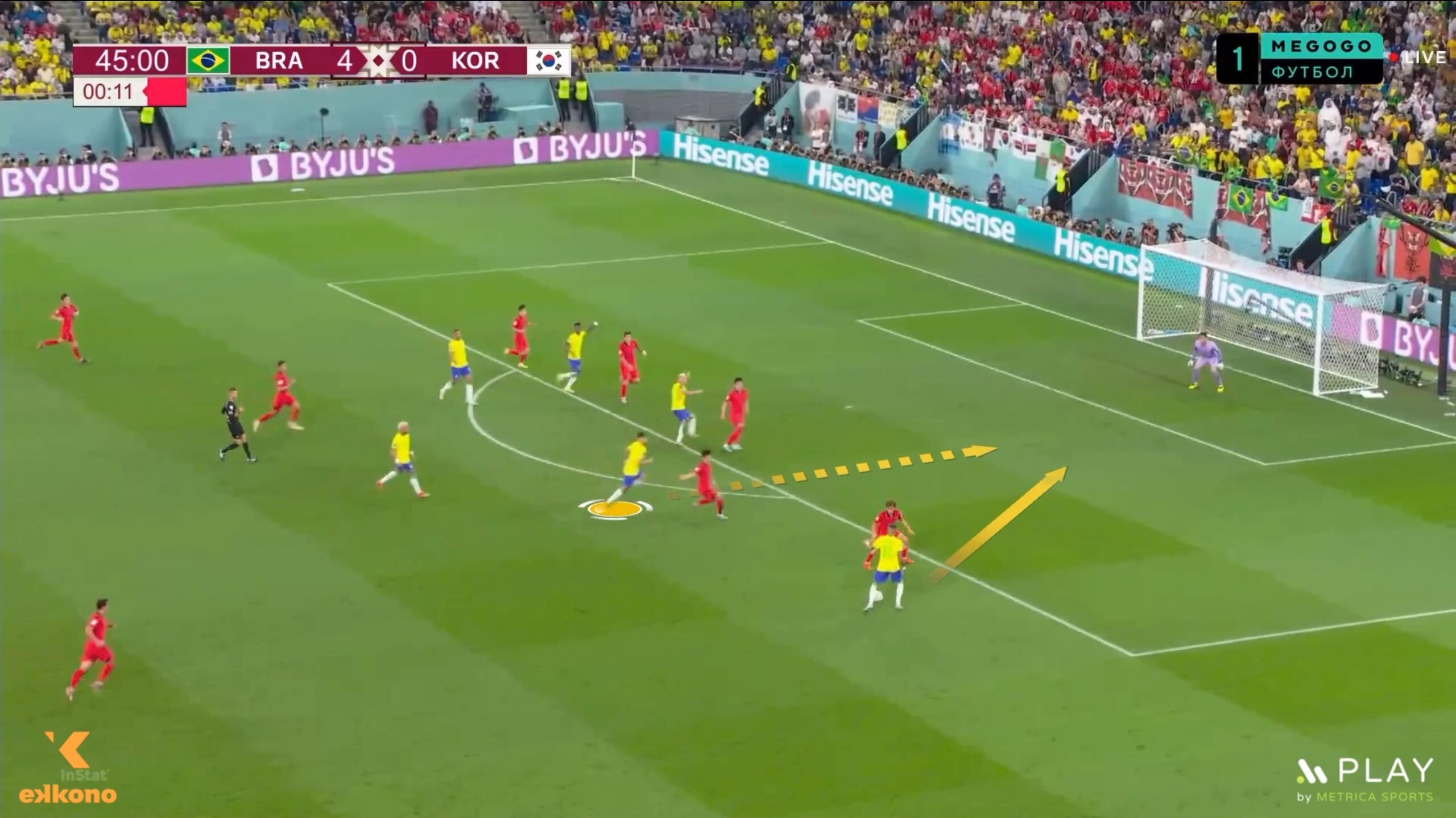 Another key aspect to explain how Paquetá contributes to his team's performance, is the movements he does to help the wingers receive the ball in advantage. In the first example, we can see how Paquetá stays in the pocket, in between the square shaped by Korea's central-back, left-back, winger and midfielder. By doing so, he is attracting the attention of Korea's full back and creating space and time for the winger, Raphinha, to receive the ball in advantage. The play then continues, with active participation of Paquetá inside the box, attacking a cross that ends with Vinicius Jr goal.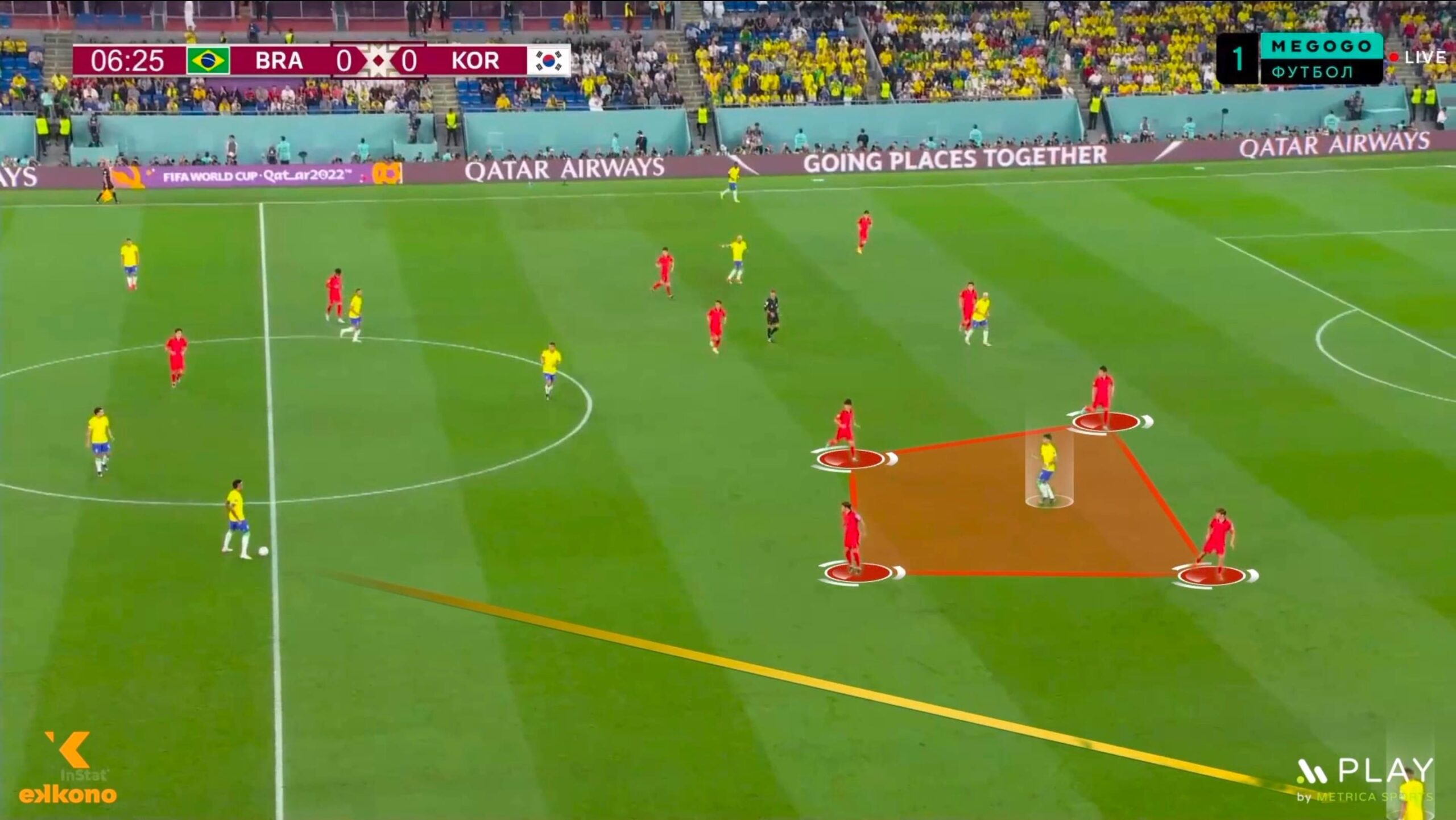 In the second example, he is also helping Raphinha receive in advantage as before. This time, though, he starts from a deeper position, and makes a run in the gap between the furthest center-back and the left-back, which again attracts the attention of the full-back, who follows his run and leaves Brazil's winger completely free on the flank. As in the previous example, he then offers continuity in the game and assists Raphinha in a one-two pass that creates a good chance for Brazil.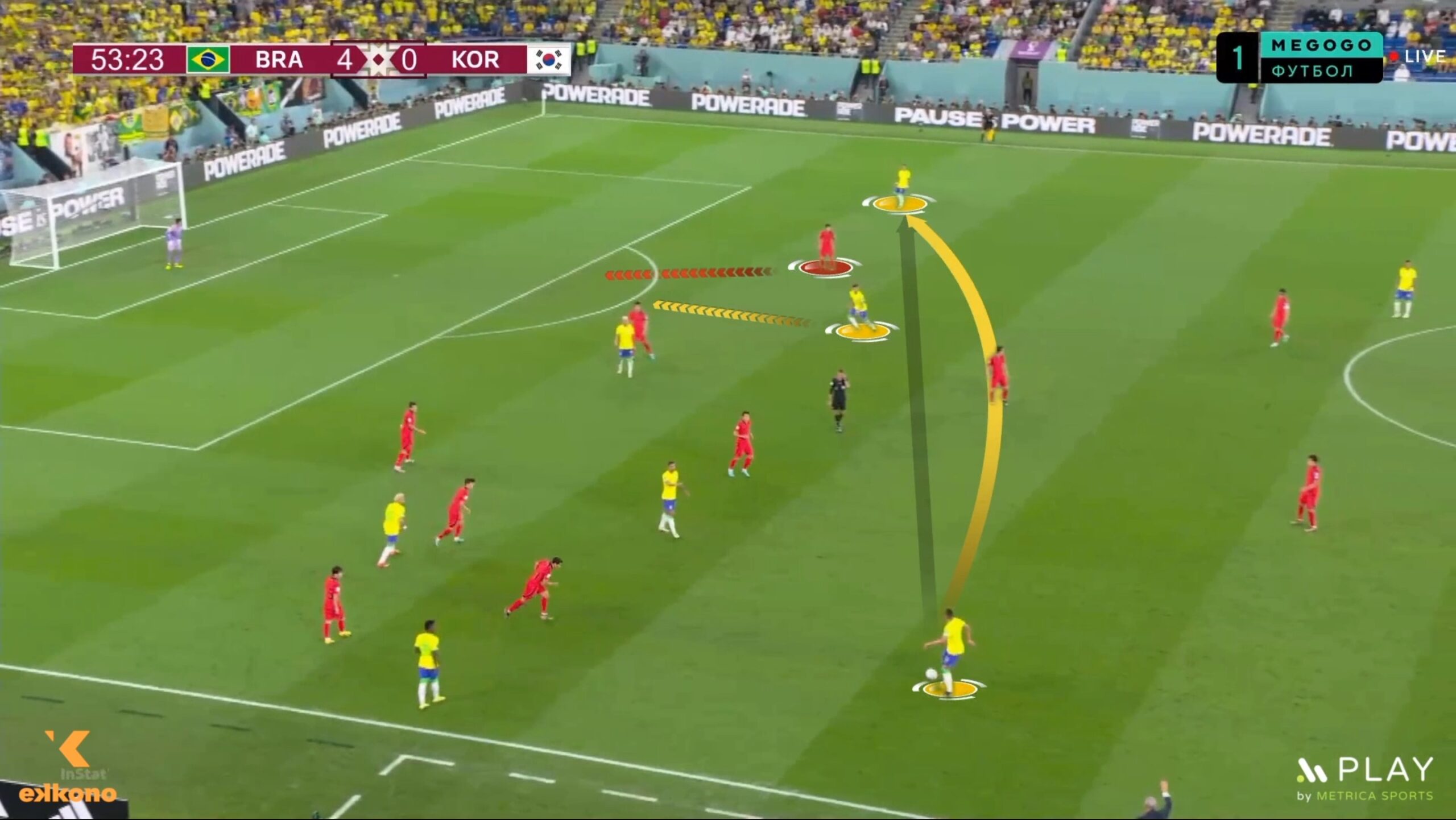 This final examples shows how Paquetá is also able to be a thread inside the box, reading which are the useful spaces to finish the action. He is able to intelligently measure the different movements of the Brazilian counter-attack to position himself in the ideal spot to score a goal against South Korea. In more detail, it is evident that Paquetá identifies the first wave of attacking players and decides to stay a little behind to arrive at the opposition's box moments later than everyone else. As a result, he becomes the second wave of attack, with basically no opposition pressure on himself. This allows him to receive the cross and score with an impressive one-touch finish with his weak foot.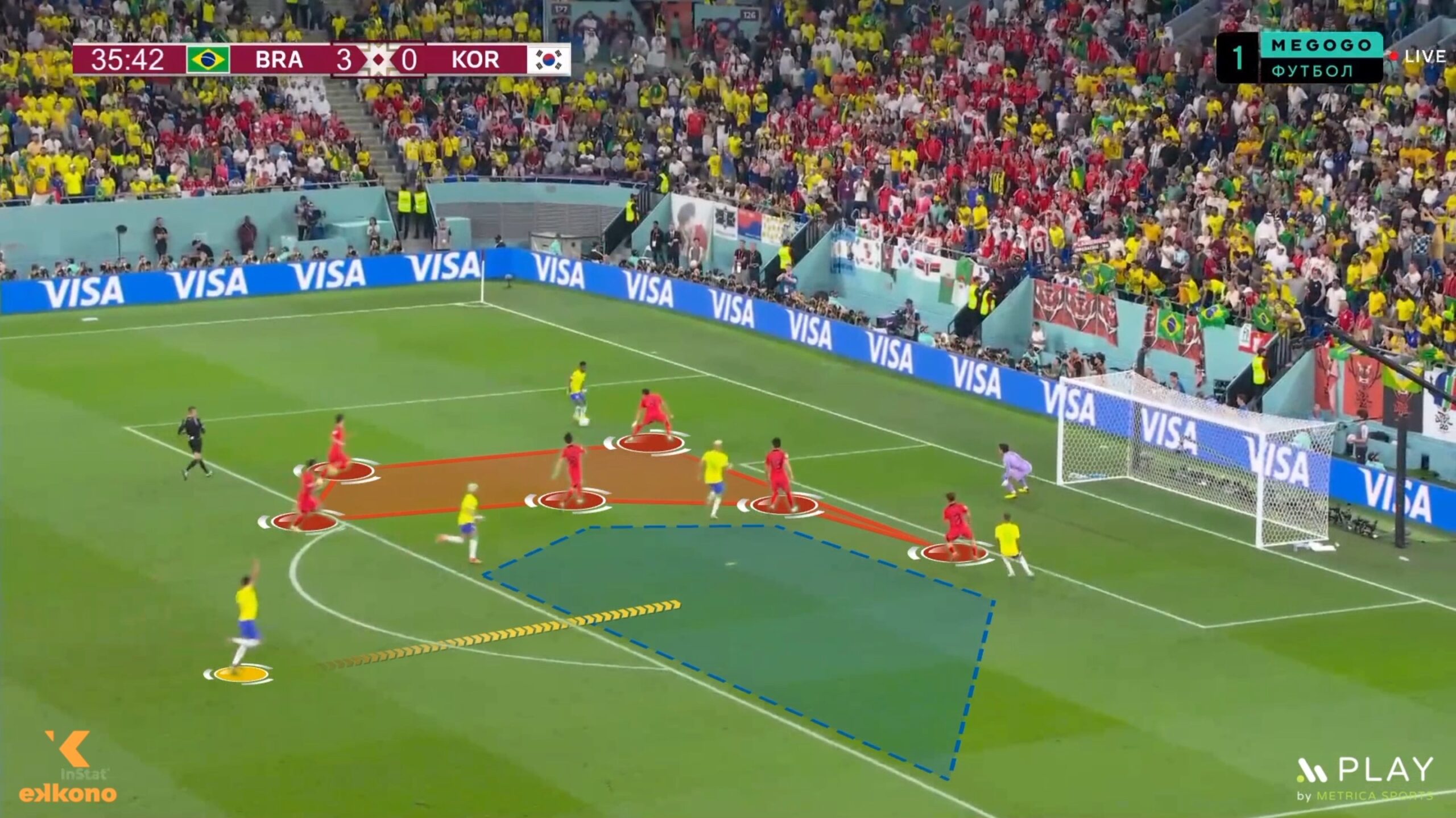 Conclusively, we want to emphasise that, despite Brazil's loss against Croatia, Paquetá is a player that can help build a future team for Brazil national. He is the 'Hidden Key', as he is noticeably a very intelligent tactical player who has a clear vision of the game. Paquetá's ability to perform different roles within the same match and do them with high quality is what makes his job so efficient and unique. He is a crucial asset for Brazil and will continue to prove his quiet success throughout the remaining of the World Cup. Us, as coaches, we encourage you to use Paquetá as a prime example for your players in midfield. Paquetá is without a doubt a role model within this game and someone who must be considered as world class.