The World Cup has become the latest stage where the next generation of footballers are playing exiting and dynamic football. It is safe to say that the future of football is in good hands. Gavi, Pedri, and Musiala are some of the main leaders of this next wave of football players as they continue to prove that they are world-class despite their age. These three wonderkids portray a new way of playing, one that focuses on the game-understanding approach to football rather than a physical one. Hence, in this article we explore and analyze the role of these three key players with their respective national teams across the first fixture of the World Cup.
Gavi, the latest Golden Boy winner, has proven to be a great with the ball but his movements off the ball and tactical understanding must also be highlighted as key of his success. Gavi's ability to be dynamic and eye for detail results in him being a tactical asset for FC Barcelona and the Spanish National Team. Moreover, Gavi's great positional sense allows him to understand spaces very well and therefore allows him to be fluid on the field. This also allows him to drop into valuable positions on the pitch when the Spanish National Team is building-up with the ball, resulting in effective progression.
In Spain's first World Cup match against Costa Rica, Gavi demonstrated how a player with this perception skills and knowledge can be crucial for the outcome of the match. In the demonstrated example, Gavi drops to a lower part of the pitch, resulting in the Costa Rican midfielder who is pressing Busquets, to follow him and break the defensive line. As a result, Laporte is able to easily find Busquets, who is now free from opponent pressure, and continues the attacking build-up for Spain.
Simple movements like this one from Gavi allowed Spain to have great fluidity throughout the whole match. Through his perceptive intellectual, Gavi's movements attribute to the offensive building-up of Spain and it proved to be very successful. Additionally, these movements create uncertainty within the opponent's midfielders and defense, often leading to an easil break the defensive lines of Costa Rica.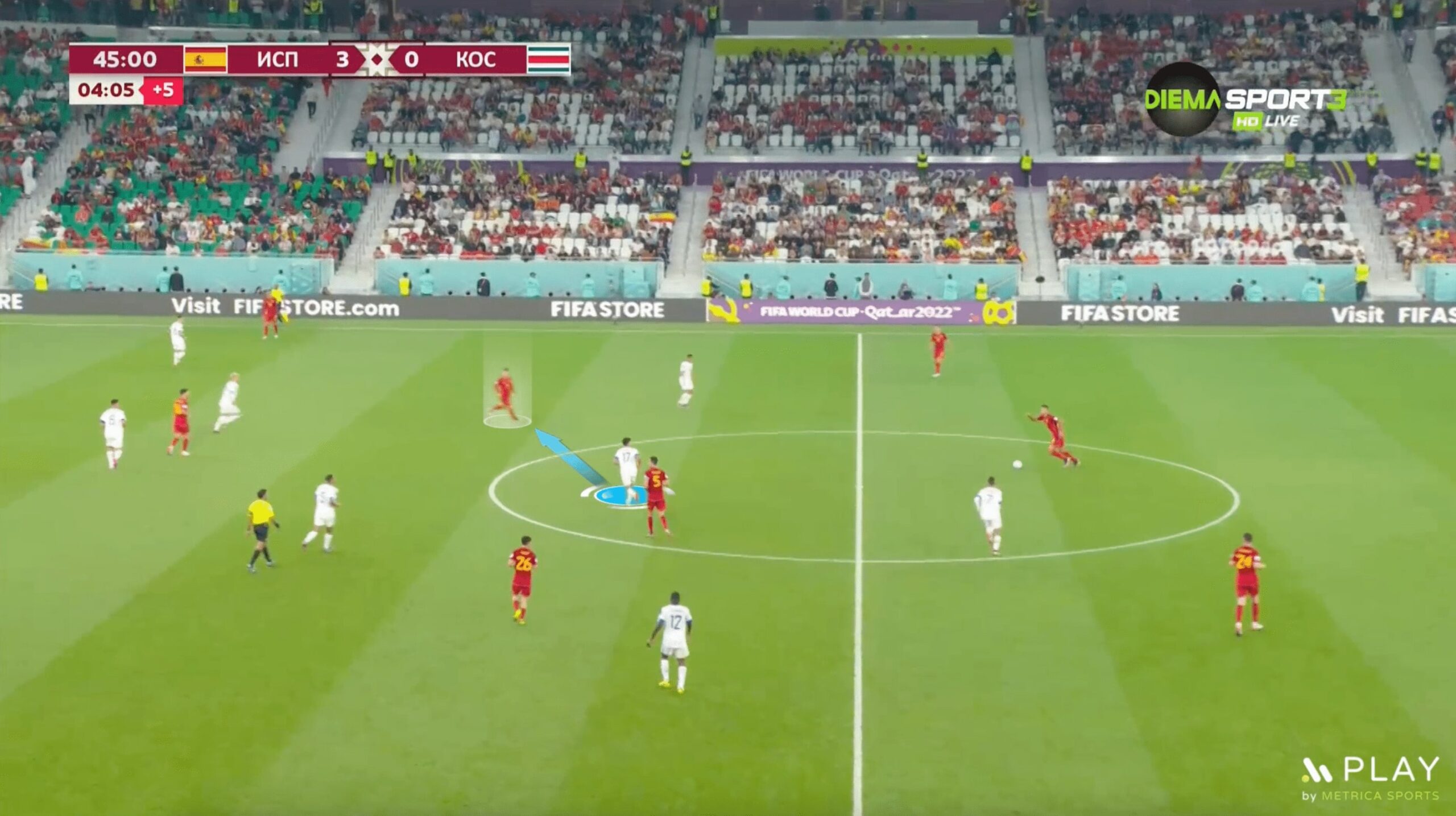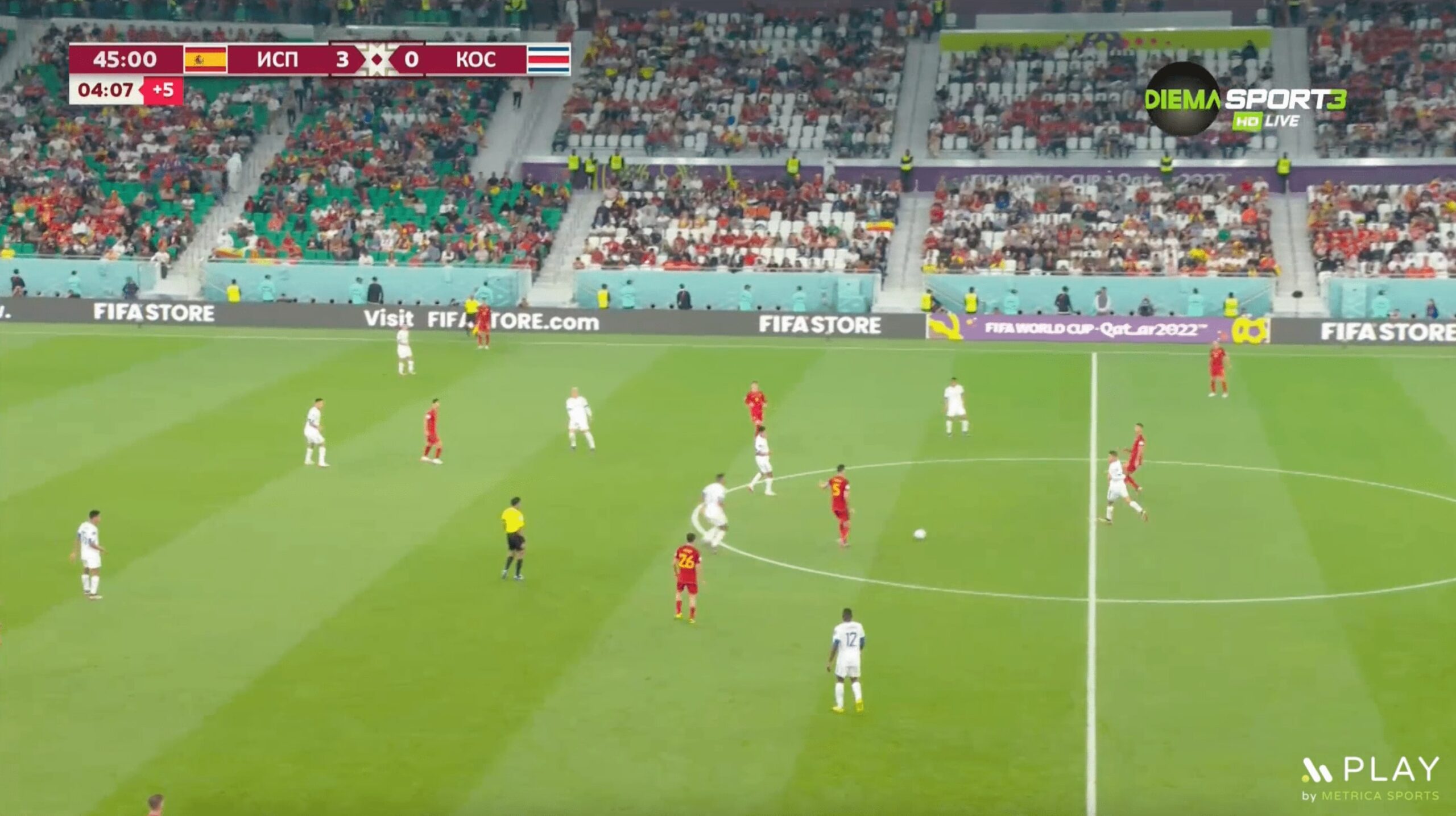 Along Gavi, Pedri has proven to be an indisputable asset for Spain. Pedri's role is also varied and flexible, and is crucial for the build-up phase of Spain though his movement around the pitch in order to create passing lines for himself or his teammates. Additionally, Pedri has shown to be explosive in the final third of the pitch because of his constant movements on and off the ball, which help break the opposition's shape and defensive line.
In the demonstrated example, Pedri drops near Busquets and Costa Rica's main two midfielders. By doing so, he is able to drag one of these midfielders close to him in order create space for his teammate, Marco Asensio. Busquets then passes to ball to Asensio, and the Spanish build-up play continues and results in a dangerous attack. This type of actions were clearly seen and repeated throughout the whole match, as it proved to be an effective method to put Costa Rica's shape in constant uncertainty. Pedri's perception skills and exquisite knowledge of the game allows him to perform in a great manner and facilitate his team's style of play.
In his first game with Germany in a World Cup, Musiala further demonstrated his leading role and importance for his national team. The 19-year-old was a nightmare for the Japanese defensive structure during the first half, as they could not decipher his movements. Bayern München's wonderkid is known to have a constructive mindset that when paired with his ability, allow him to succeed in tight spaces of a game. When having the ball Musiala has great footwork, dribbling skills, and accurate passing. Most importantly, even, when playing without the ball, his movements are help open passing lines and create imbalances in the opponents.
In Germany's match against Japan, Musiala was often seen making explosive movements and runs to pick up the ball in tight space. Other times, his movements without the ball created doubts among the Japanese right side of their defensive structure (winger, full back, center back and holding midfielder) and served his teammates by granting them more space to receive the ball and continue the dangerous attack. In this example, Musiala does just that in perfect composure. Being located in the middle of Japan's defensive line, he opens up to the wing and the Japanese center-back follows him. As a result, Musiala's teammate is able to find Kai Havertz and rapidly pass him the ball. Musiala performs an explosive run and receives Havertz's pass and to continue Germany's attack. Again, this action shows Musiala's outstanding game understandinge along his perception skills to understand the different opportunities of the game. In other occasions, he was able to drag the right back inside to allow Raum (Germany's left back) make deep runs at the back of the Japanese right back.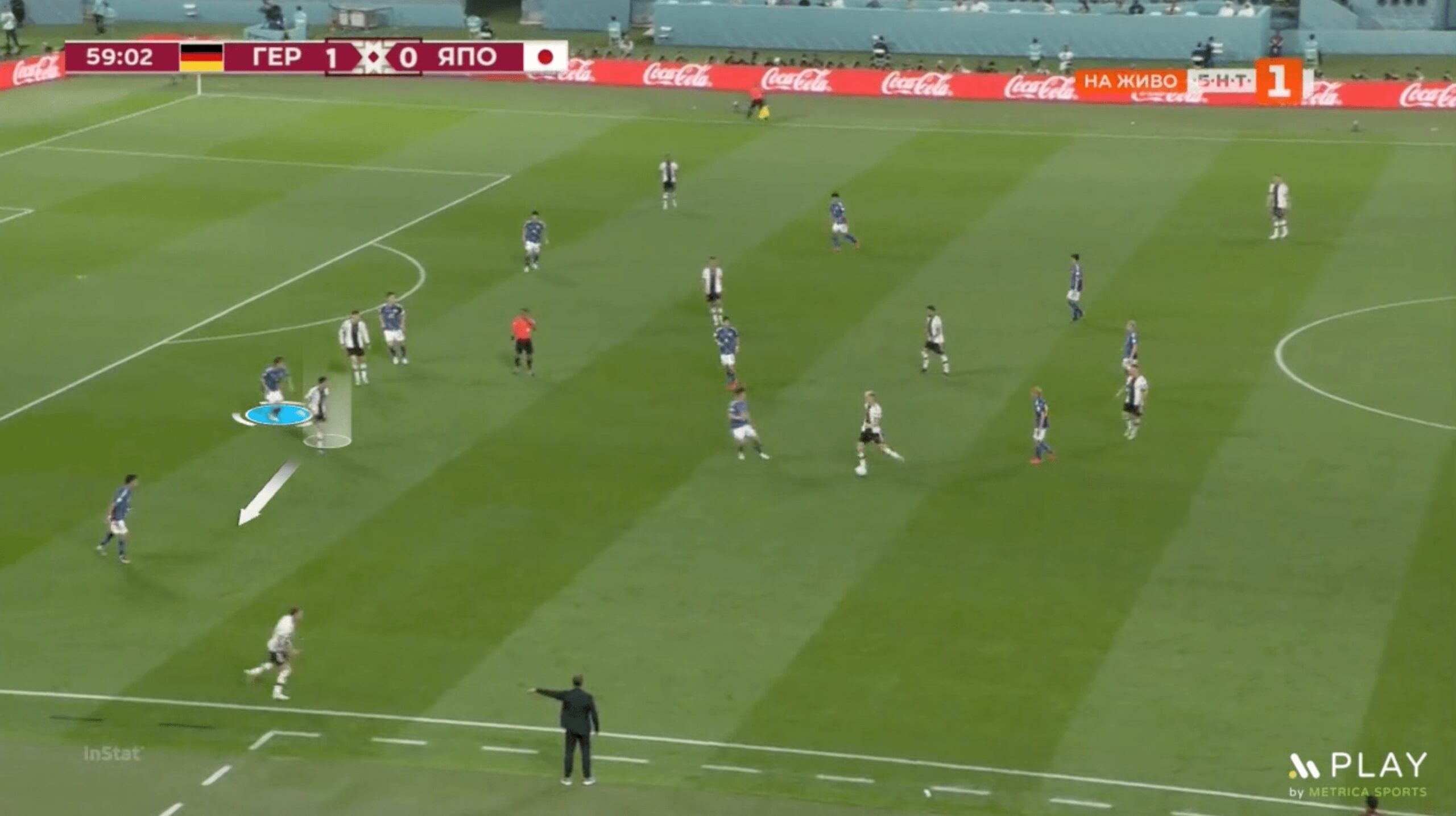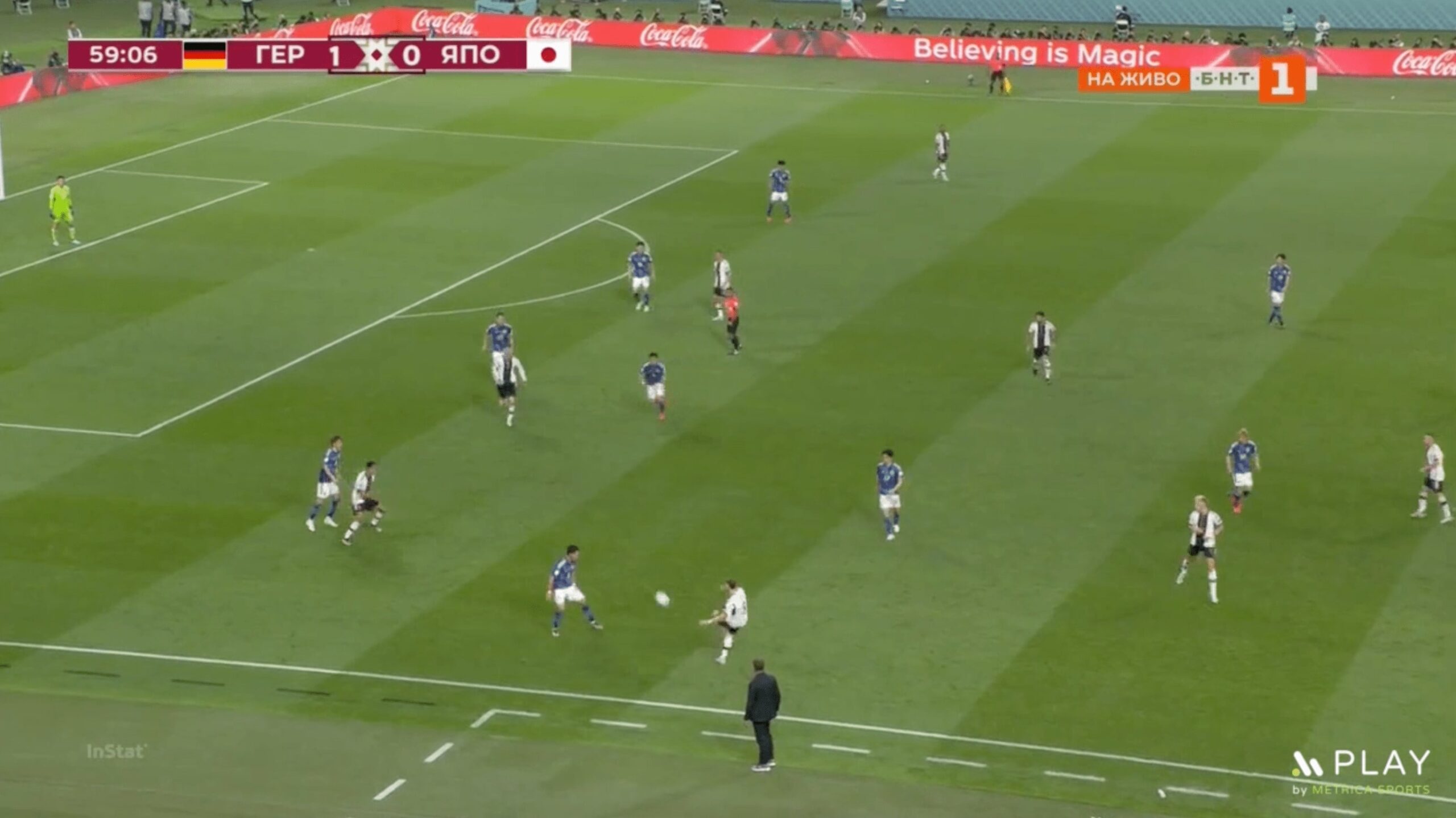 Gavi, Pedri, and Musiala are the latest evidence of football's changing dynamics. Today, the game requires players with excellent perception skills and decision-making to help their team progress effectively and create opportunities. These players further prove that despite not being the fastest or the strongest, they can excel from a young age at such big competition as the World Cup. As coaches, these three players and their in-game actions are perfect examples of what we should be teaching our players. Within the many aspects of the game, we should aim to effectively coach perception skills so that our players can increase their knowledge and understanding of the game.