Ralf Rangnick joined Red Bull as Director of Football in 2012, in order to help them expand in Europe (Salzburg & Leipzig). Rangnick has been credited as the architect of the high-pressing game widely used nowadays by a number of top teams. Coaches such as Jürgen Klopp, Thomas Tuchel, Julian Nagelsmann, Hansi Flick, Ralph Hasenhüttl and Jesse Marsch have all been influenced by him to varying degrees.
In this analysis, we will try to explain the key characteristics of the game model proposed by Red Bull, focusing on Bayern München (Nagelsmann) and Leed United (Marsch).
The Red Bull game model, gives high importance to transitions both offensive and defensive. We will start our analysis by the latter. When losing the ball, both Bayern München and Leeds United apply high intensity pressure.
Starting with Bayern, we can see how they have many players near the ball, which allows them press immediately after losing the ball. Also, when the opponent team is able to progress and play with forward players, Bayern presses with 4-5 players in the near spaces, to ensure the player who receives the ball does not have an easy solution to turn around or play to a teammate. This fast and intense pressing, allows them to recover the ball multiple times during matches, leading to goal chances.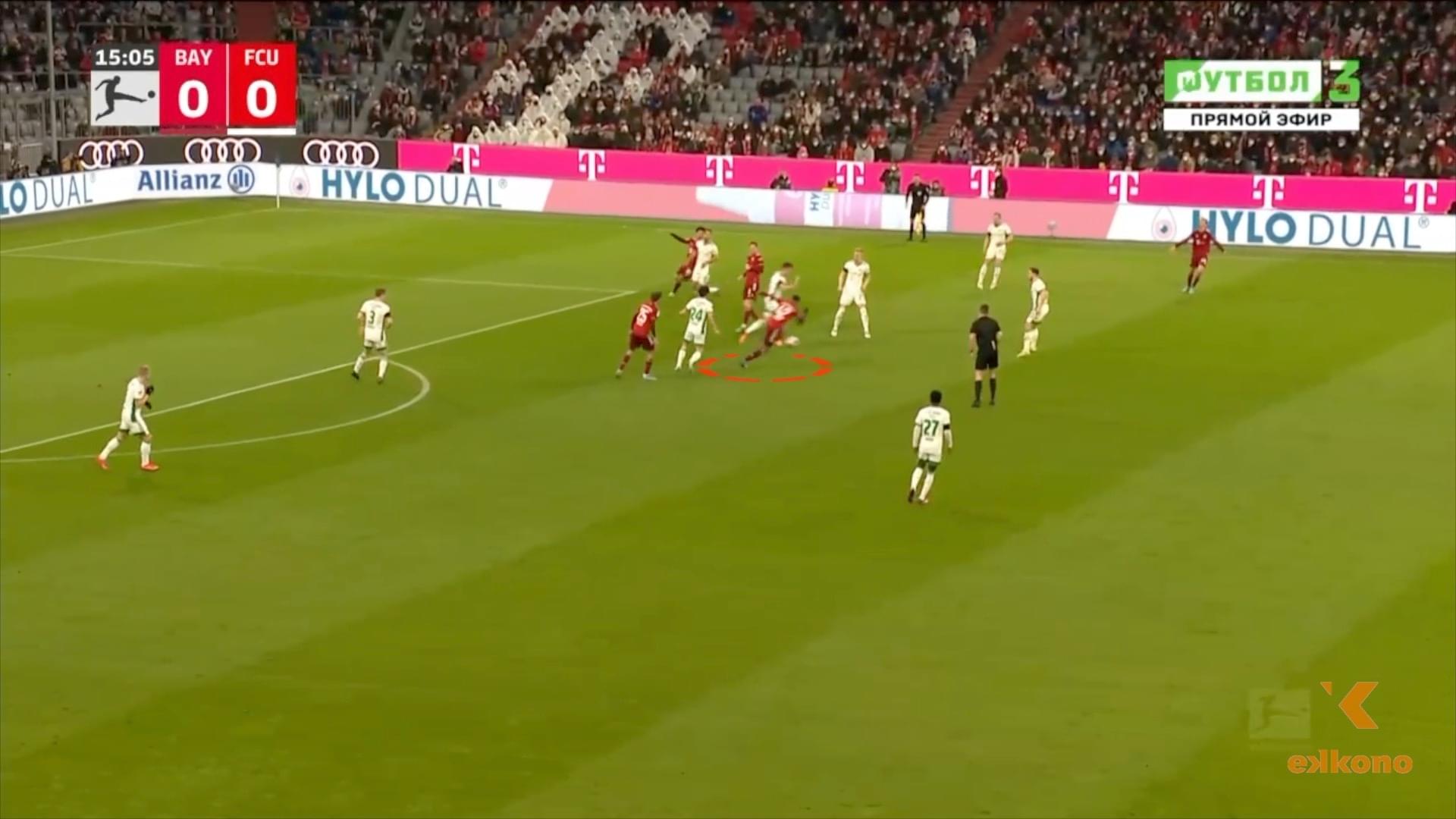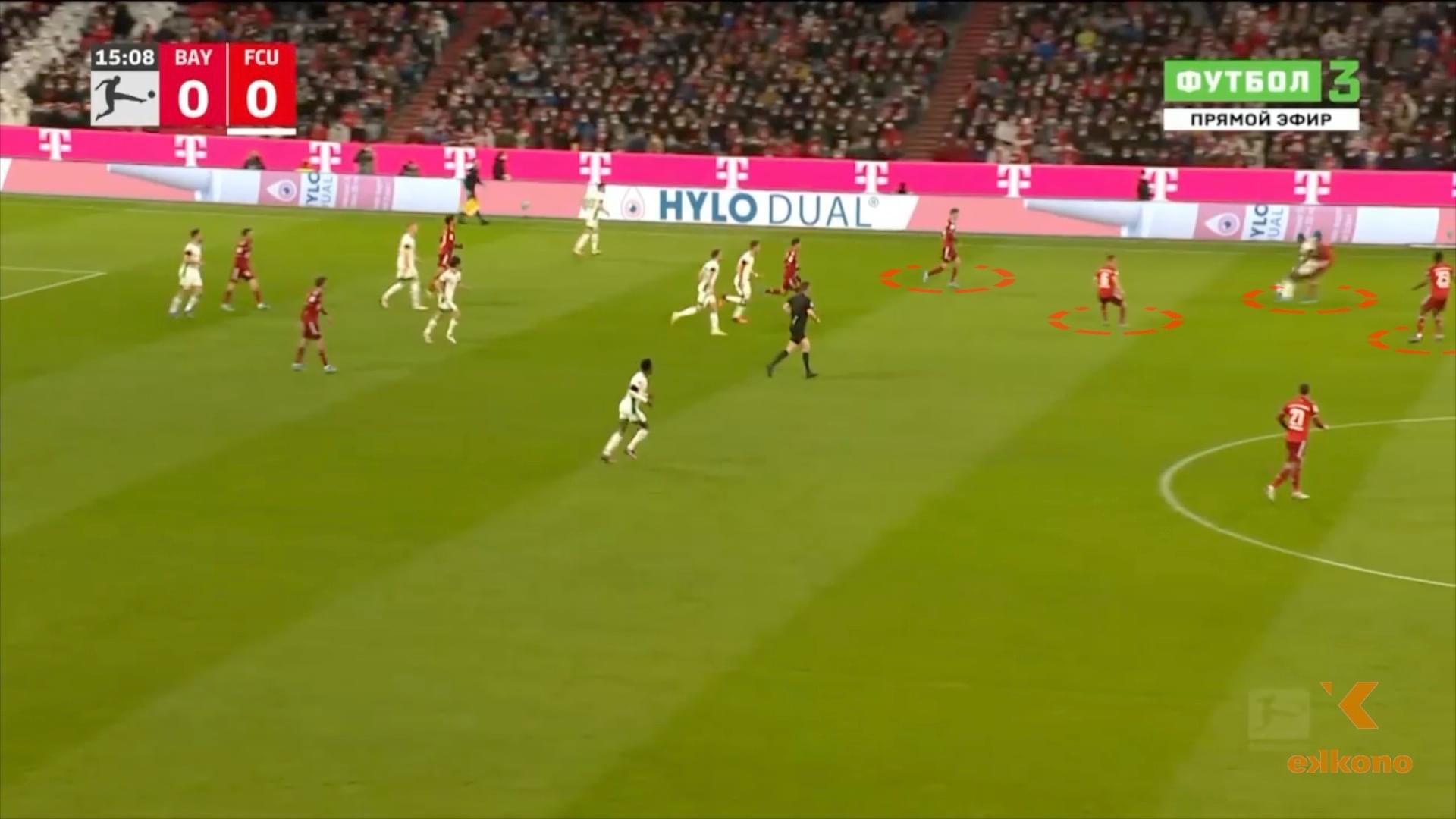 Leeds United, under Jesse Marsch, also has a similar approach. An interesting characteristic of Marsch's counter-pressing is how he demands his players sprint after losing the ball. This is not an individual effort, but a collective one. The american coach asks their players to make this maximum-speed effort in group. He has even named those efforts as "Sal's Theorem" based on something his New York Red Bulls player Sal Zizzo told him about this togetherness, and the difference between pressing with a single player or pressing as a group.
In the examples analyzed below, we can see Daniel James and Rodrigo Moreno sprinting after a long pass which most likely will end in a turnover. This collective effort allows them to recover the ball and end up scoring. In the second image, we can see how after being surpassed, two players track back sprinting, which allows to stop the counter-attack.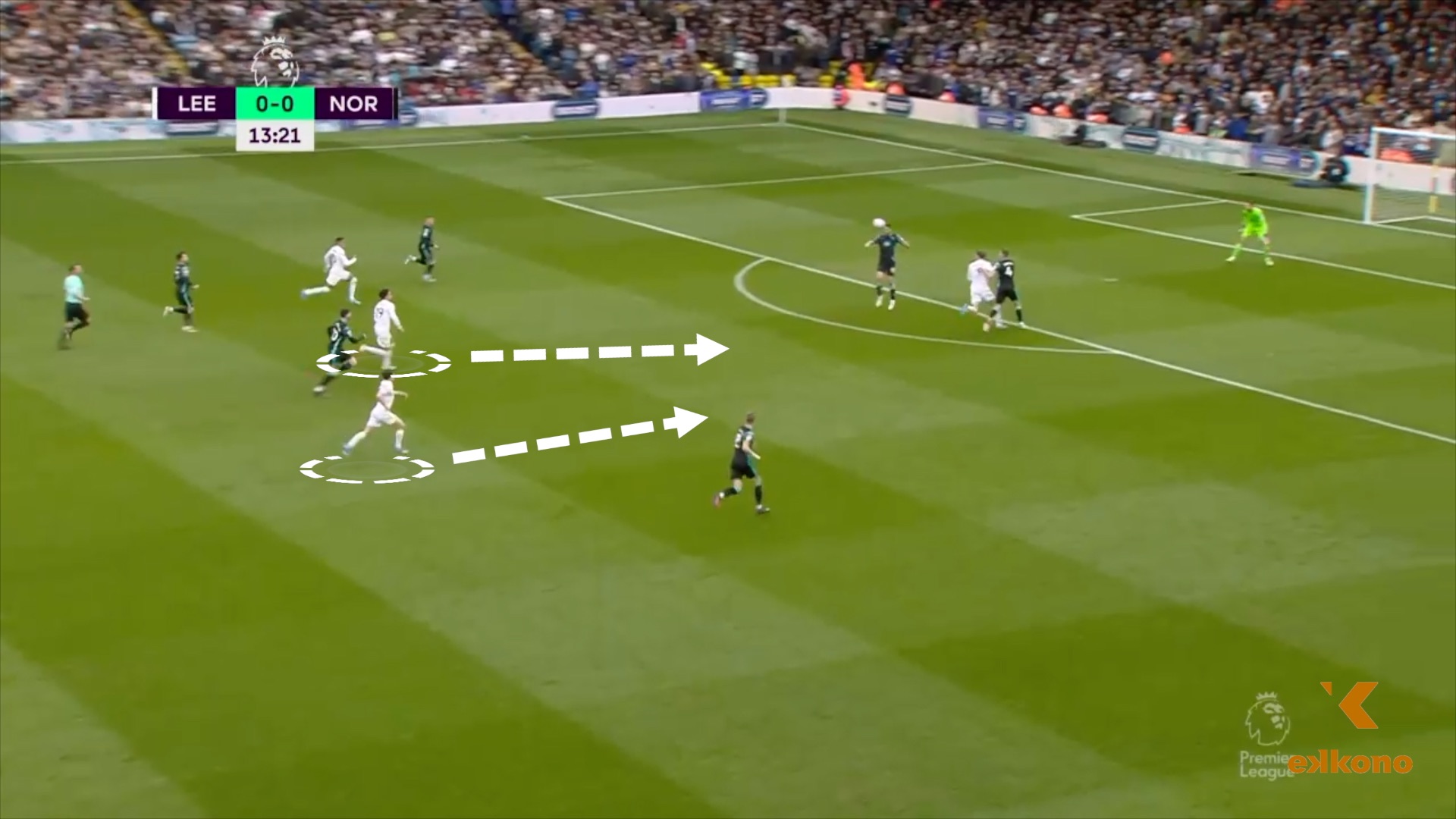 In the offensive transition, there are two principles that Red Bull coaches follow. This first one, is that after recovering the ball there must be a player offering a clear passing line, a clear support, to the ball holder. The second principle is that there must be another player attacking the space, making sure to occupy the gaps opened in the defensive line.
Thanks to the combination of these two principles, Bayern and Leeds are able to create many chances and score often. Below we can see how in this play, after Bayern's recovery, Leroy Sané is offering a clear support to his teammate, while Robert Lewandowski is attacking the gap opened in Union Berlin's defense.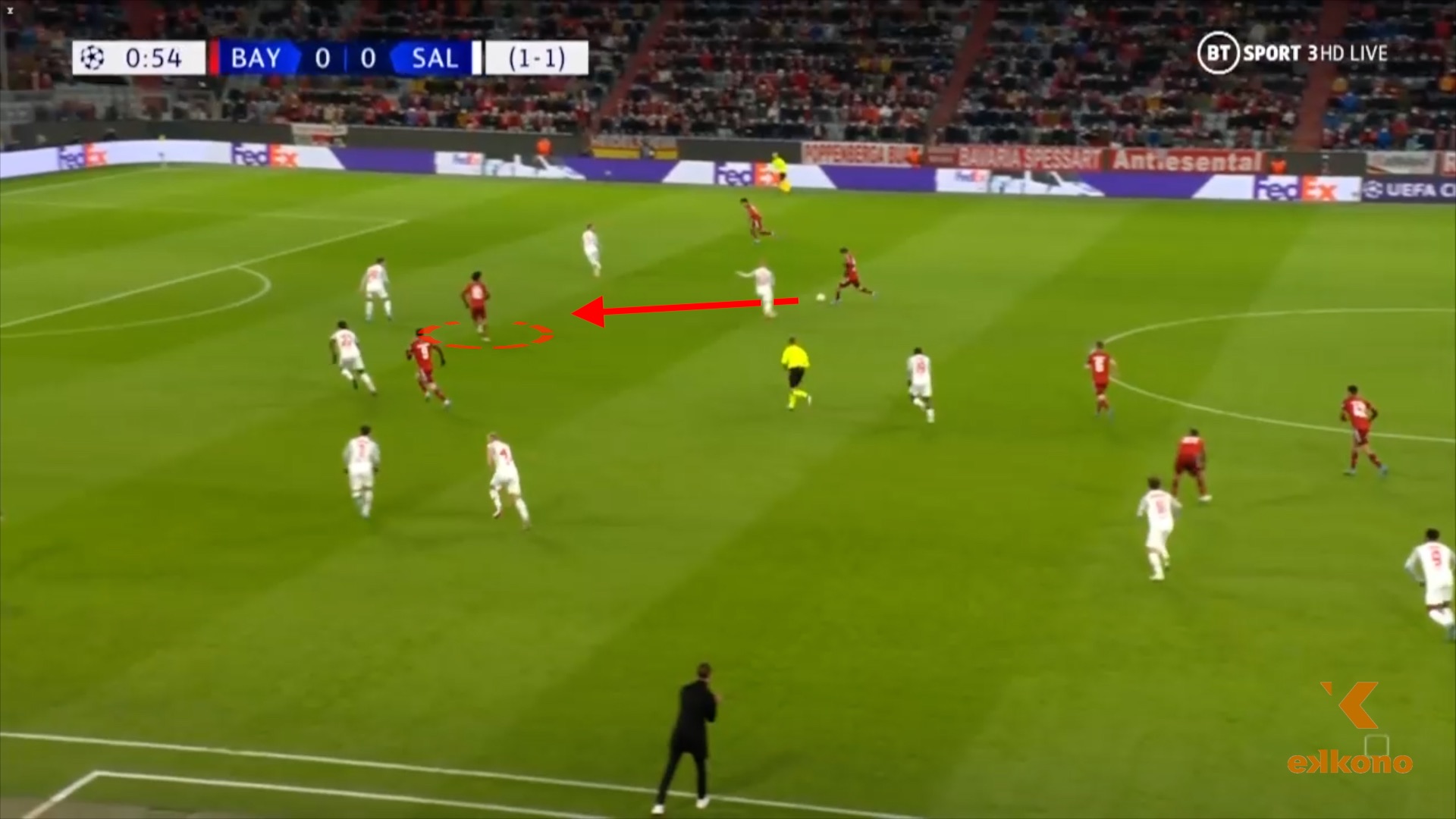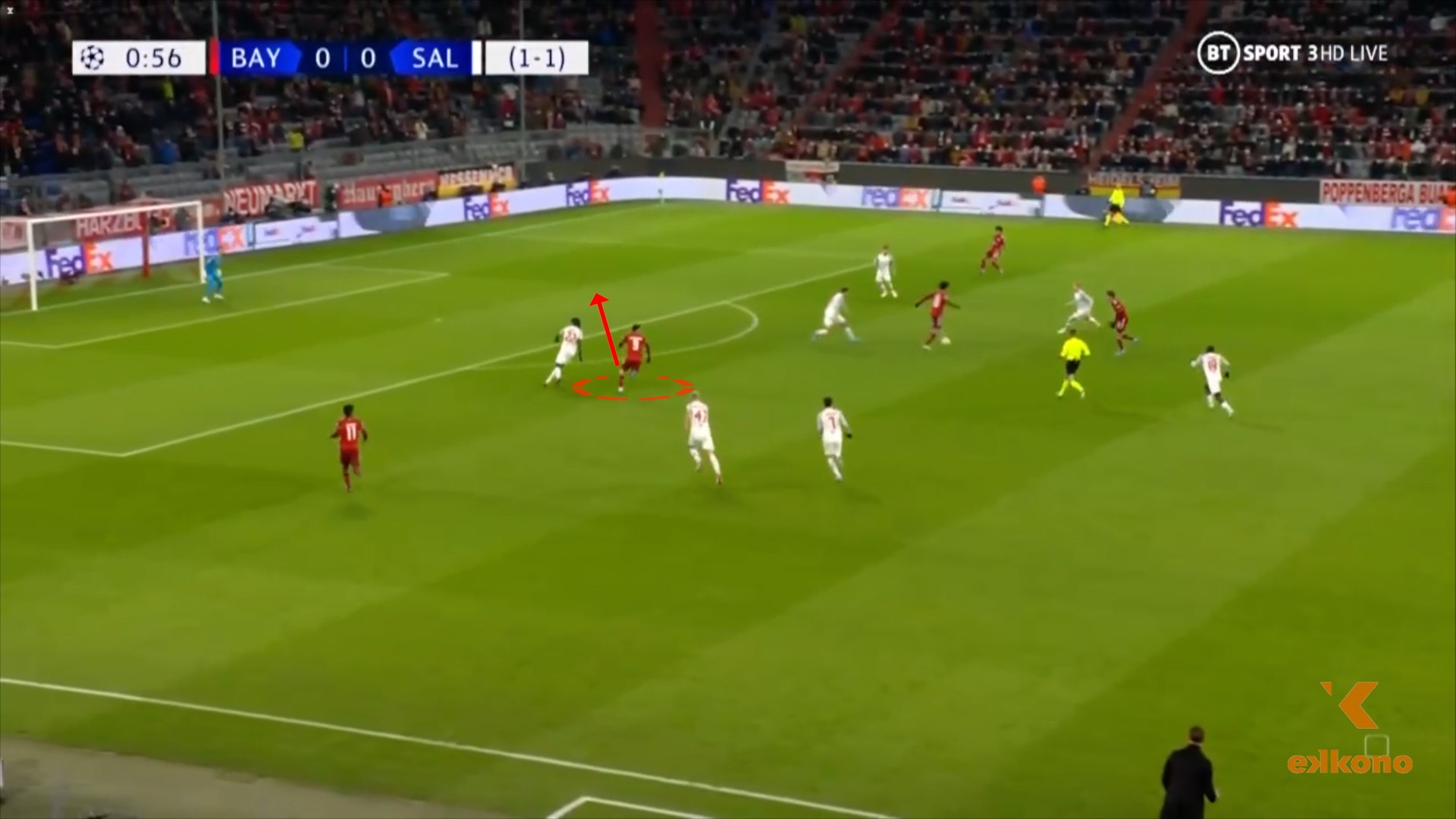 This principle is also followed by Jesse Marsch and his Leeds United side, proving the huge influence Ralf Rangnick had in these coaches and the rest of the Red Bull factory. Dominating the game through the offensive and defensive transition, concepts such as gegen-pressing (counter-pressing), are concepts that have become trendy in the past years.