When it comes to the Brazilian footballer Vinicius Jr., the slogan 'power is nothing without control' couldn't be more fitting. As a player, Vinicius possesses a rare combination of explosive speed and incredible ball control, making him a constant threat to opponents on the field. His dribbling skills and ability to beat defenders one-on-one are particularly impressive, showcasing his exceptional control over the ball. It's no wonder that he has quickly become a key player for Real Madrid and a rising star in the world of football.
At the age of 22, the Brazilian is one of the most promising football players in the World and already one of Real Madrid's best player, who has been making waves in the world of football since his early teenage years. His performances have earned him a place in the starting eleven, and he has become a key player for the team, especially in big games.
Despite his young age, Vinicius has already won several trophies with Real Madrid, including two La Liga titles and the UEFA Champions League. In this article, we will take a closer look at Vinicius' playing style and his contribution to Real Madrid's success.
Vertical Player
Vinicius Jr. is a young football player who has made a name for himself with his attacking prowess on the field. He is a very vertical player who is always looking for opportunities to take on his opponents in one-on-one situations. When dribbling, Vinicius Jr. is very efficient and looks to exploit any openings he sees. If there is coverage, he tries to be more precise, using a higher number of short touches to keep the ball closer to his feet. If there is no coverage, he makes use of his high speed and uses long touches to surpass his opponents. His first intention is always to try and beat his defender with a dribble, but he is also able to find passing options when necessary. His dribbling ability is an essential part of his game, and it is a skill that has helped him become a valuable asset to his team, both at Real Madrid and the 'Canarinha'.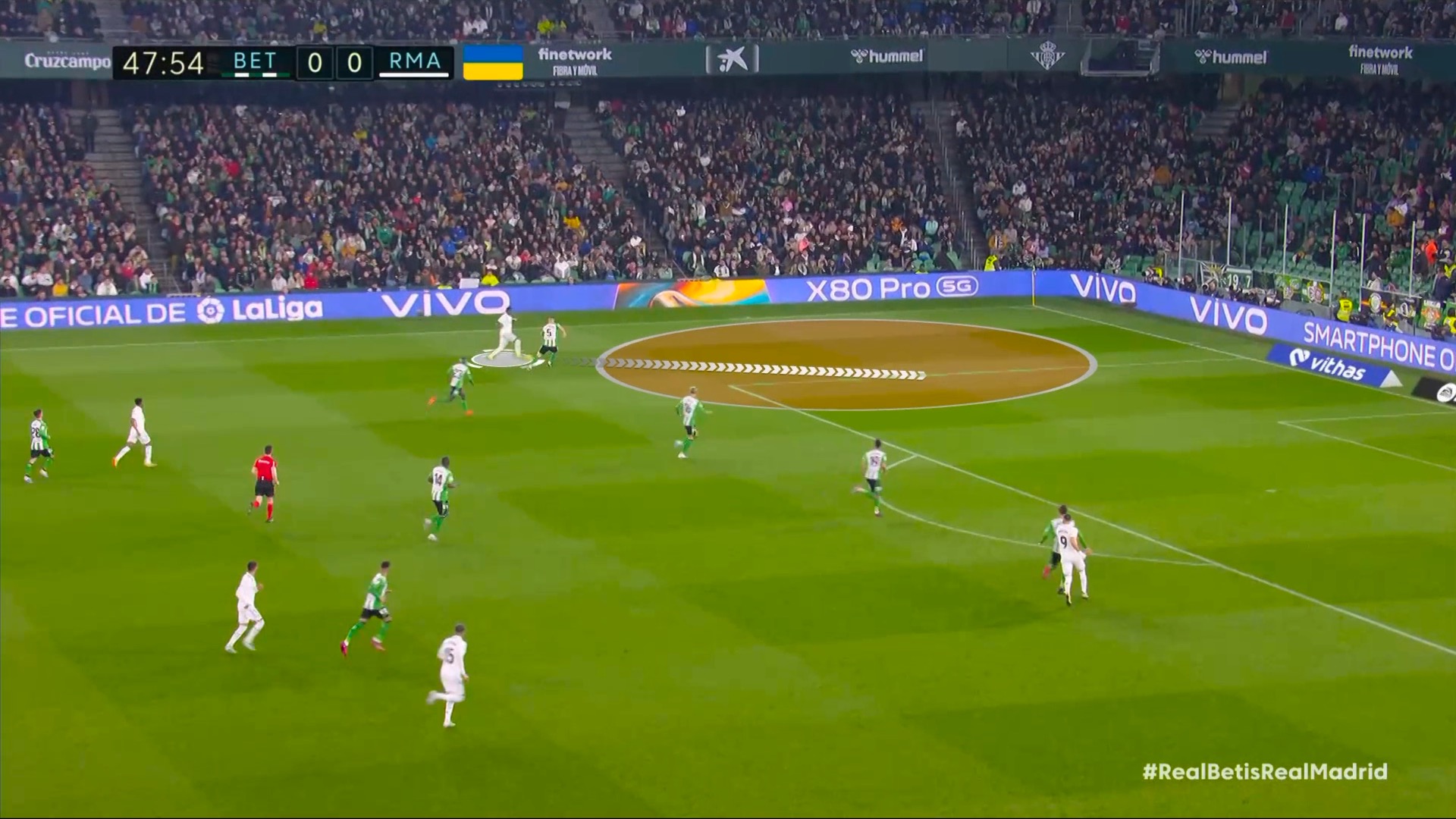 Vinicius Jr. detects there is no coverage and makes a perfectly executed long touch and accelerates past his direct opponent.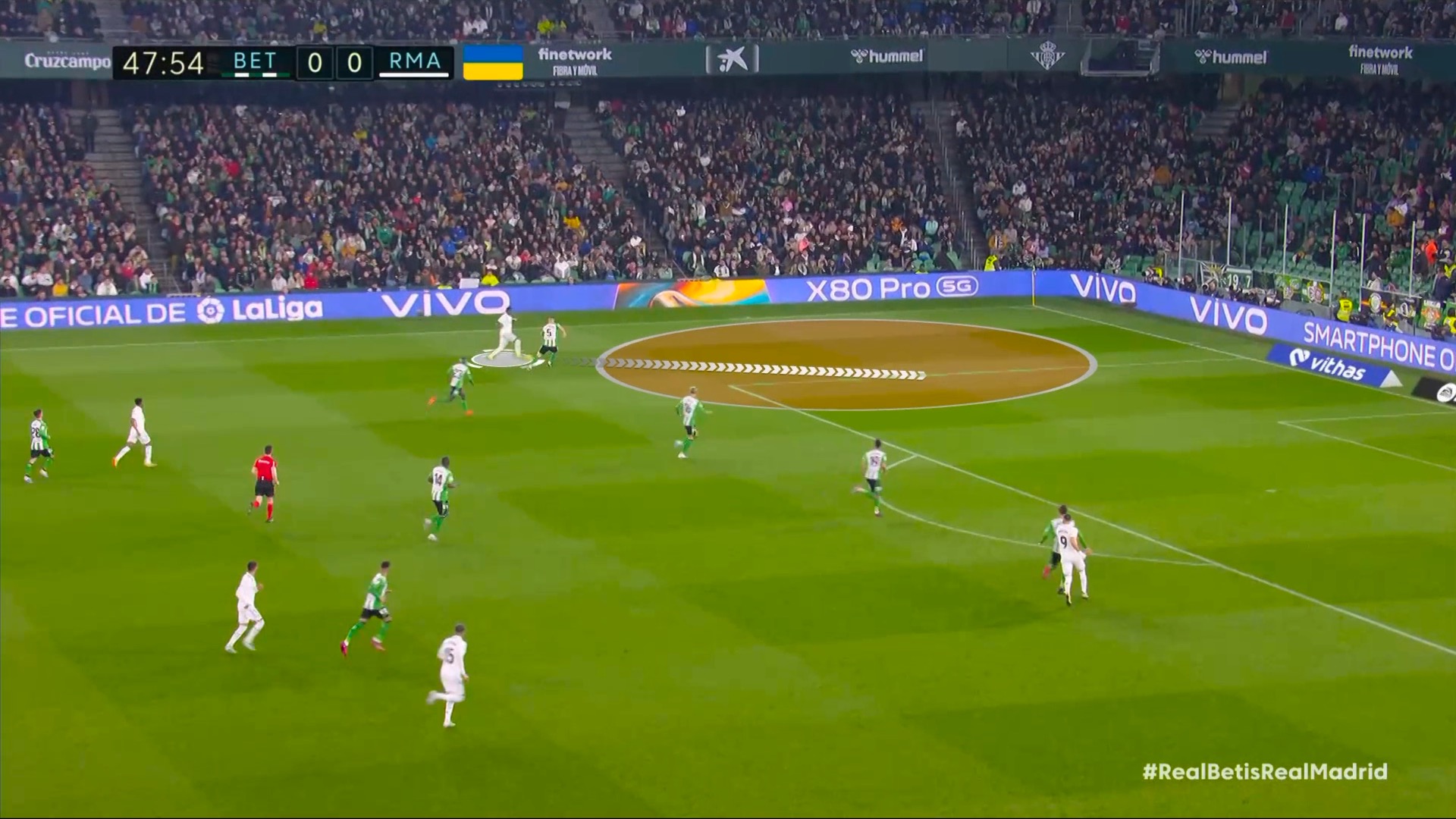 Once in advantage, Vinicius Jr. is able to make long touches to exploit his speed, to then make short and fast touches to gain control before finishing the action.
Player Attraction
Vinicius Jr. is a player who often attracts opposition players to his position on the field. When he receives the ball, defenders are naturally drawn towards him, allowing his teammates to exploit the space that is created. This is a key part of his game and helps his team to finish many actions on the opposite side, thanks to the attraction that the Brazilian generates. When he does pass the ball, Vinicius Jr. is able to create opportunities in other areas of the pitch, making him a valuable asset to his team. His ability to attract defenders and create space for his teammates is an important part of his overall game.
In the examples below we can see how defenders focus the attention so much in him, that don't allow them to detect other dangerous players attacking the box and finally scoring.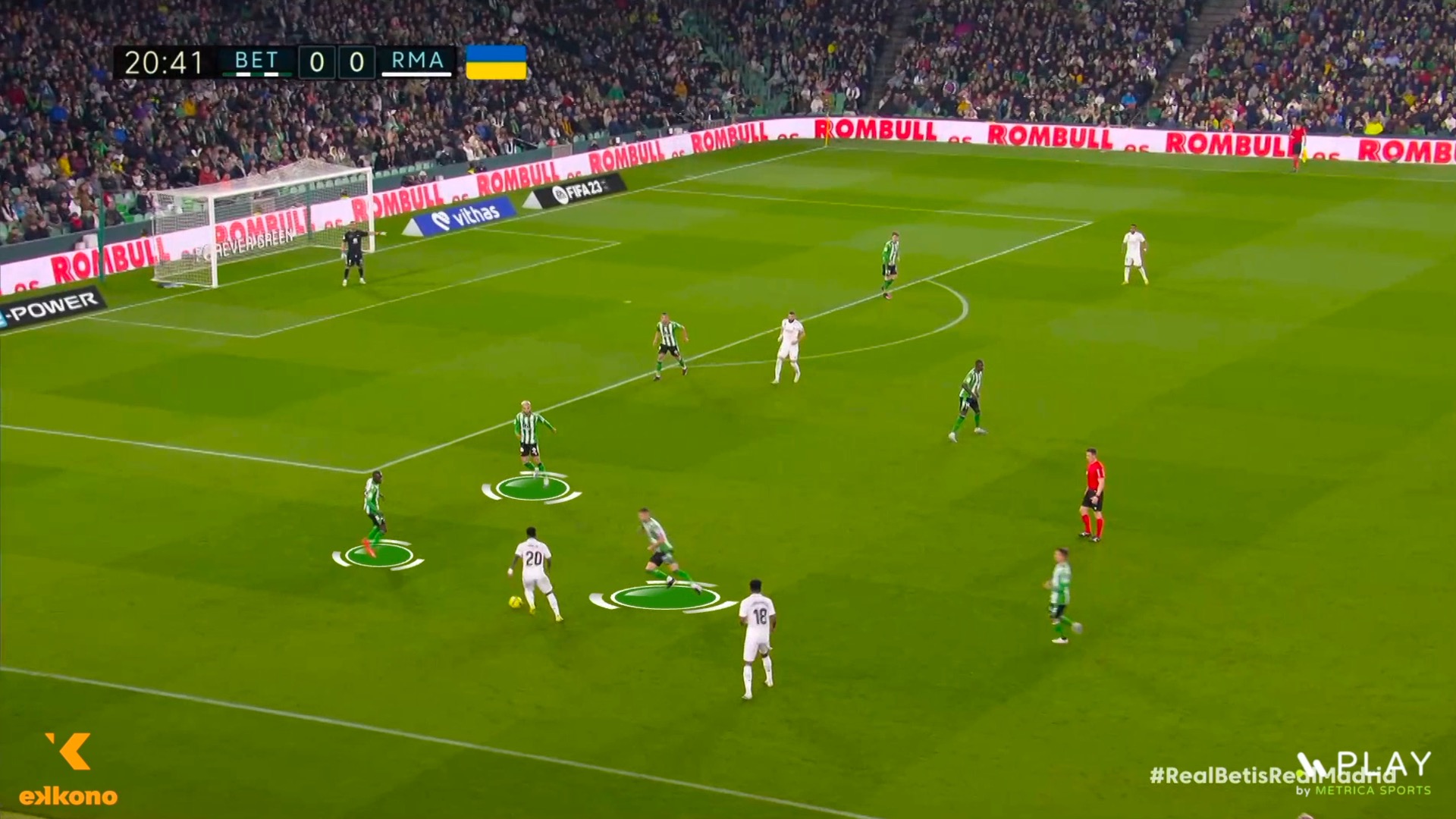 Vinicius Jr. attracts up to three defenders before switching the ball to the other side and allowing his teammates to finish the action in advantage.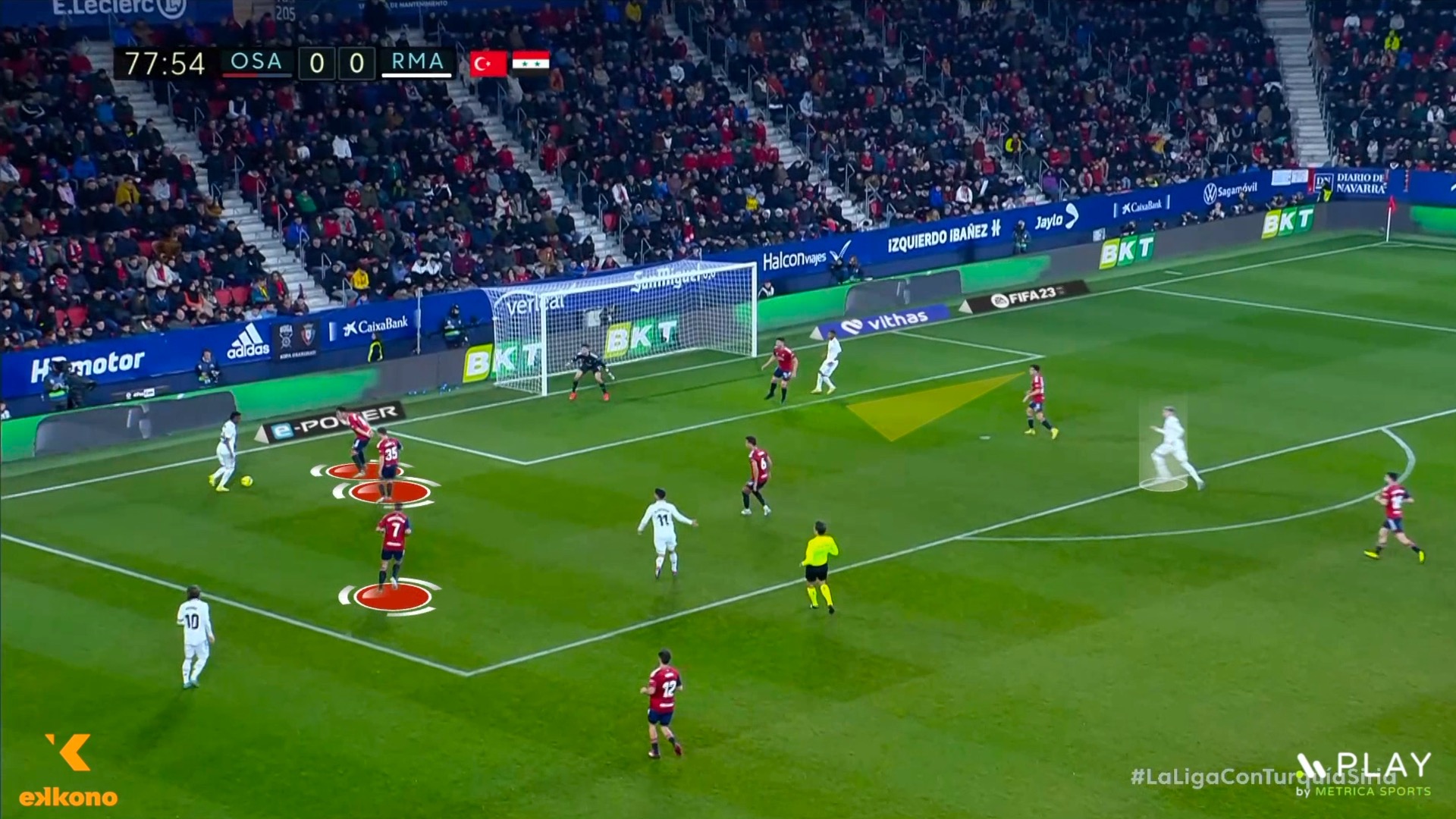 In this example, he also attracts the attention of multiple defenders who don't detect Valverde's entrance to the box, who will score.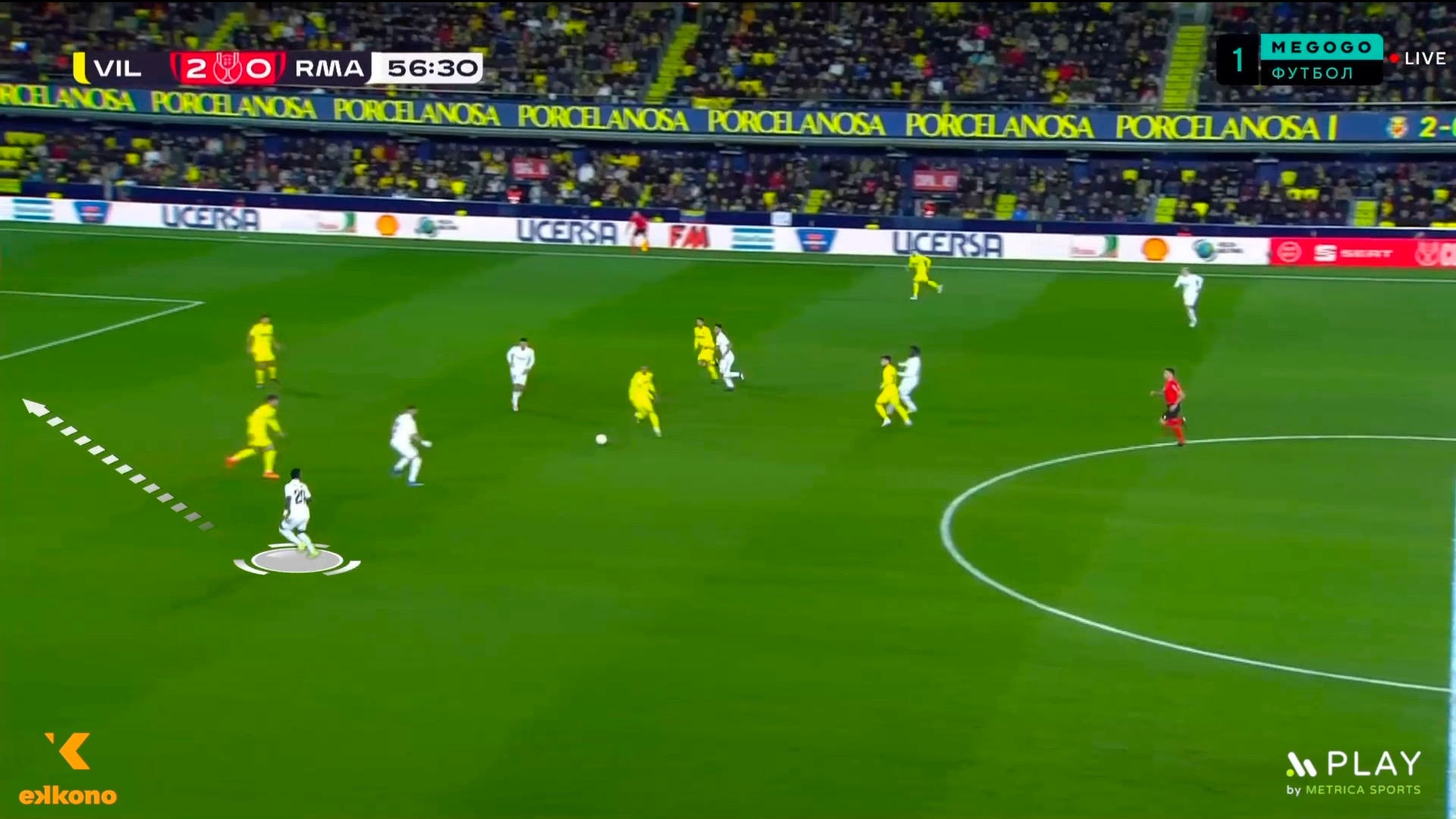 In the offensive transition, he is always ready to attack the gaps in the defensive line or the space left behind them.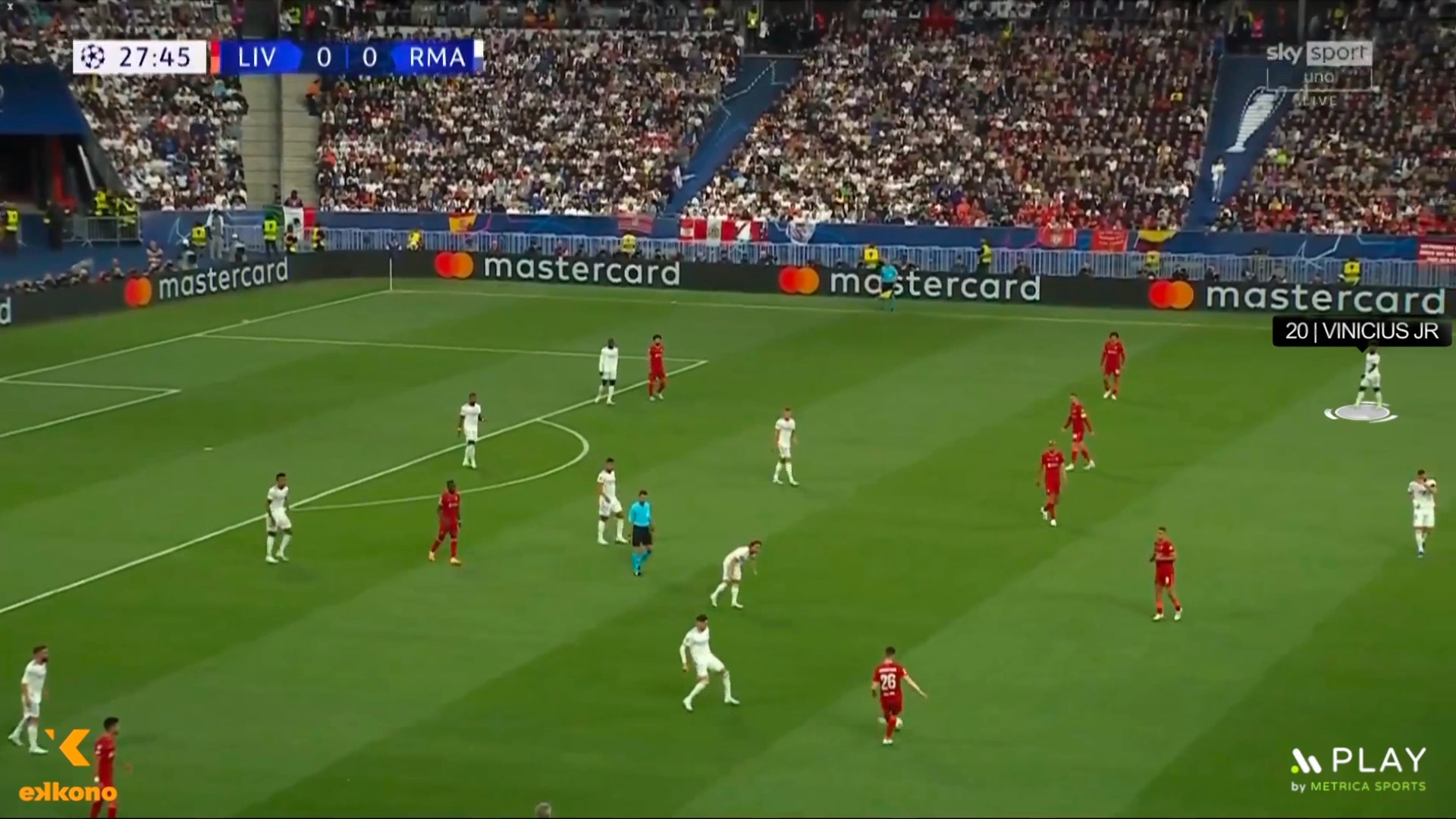 Vinicius stays in a high position, behind the opponent's full back to be ready to start the offensive transition